Inside track on the Darling effect
Monday, 29th March 2010.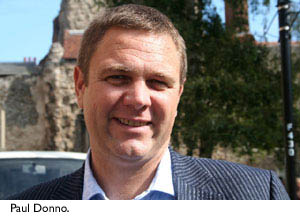 If you are wondering what the chancellor has done for (or to) your business with last week's budget, you could get some useful tips on Thursday morning at MENTA'a next Very Early Lunch Club meeting in Haverhill.
This month the speaker is Paul Donno of Paul Donno & Co, accountants and business advisors.
Paul will be giving the club some of the inside track from the recent budget, and some advice on how businesses will be affected - and how they might benefit.
Paul is very well known in Haverhill - he started his career in industry before establishing Paul Donno & Co in 1993.
He has been captain of Haverhill Rugby Club Colts and refereed rugby football at international level (in spite of needing a white stick!)
He has chaired Haverhill and regional round tables and is the current vice-chairman of Haverhill Chamber of Commerce.
The meeting is on Thursday, April 1, from 7.45am to 9.l5am at Frankie and Benny's in Ehringshausen Way.

Comment on this story
[board listing] [login] [register]
You must be logged in to post messages. (login now)