Inventor dusts off opposition to be best-seller
Thursday, 18th January 2001.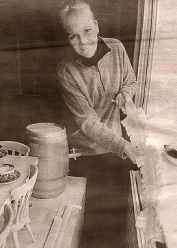 A WOMAN who fought to market the duster she invented is tonight due to demonstrate it on a TV shopping channel ­ after already selling tens of thousands of the gadgets.
Helen Daniels, 49, of Little Thurlow, near Haverhill, invented the Flatmate cricket bat-shaped duster three years ago, but only started to market it two years ago. It soon became distributor Lakeland's third best-seller in its 35-year history.
Mrs Daniels, previously an interior designer, held car boot sales and sold antiques at auctions to fund her early attempts to market her invention.
Her husband of 30 years, Roland, is a gamekeeper whose home is tithed to his job, so Mrs Daniels had no collateral to offer and struggled to get anyone to take her seriously.
"The banks just laughed at me and did not want to know. I was just this little woman from Suffolk and they thought 'who is she to teach people in design departments?'," said Mrs Daniels.
"It is a wonderful life but a gamekeeper earns a low wage and I started off with interior design to buy extras for the home. When I came up with the idea of the duster to get into places like underneath the television I really believed in it and wanted everyone to have one.
Mrs Daniels demonstrated the Flatmate on the QVC Channel. She said the demonstration went really well and got a very good response for a first showing. She is expecting to be called back again by the channel for the duster to be shown again.
"It was absolutely brilliant, I loved every minute of it. I was more nervous afterwards than beforehand, it was such an education, Mrs Daniels said.
The Flatmate is sold at Lakeland shops and by mail order, as well at some branches of John Lewis. For details ring 01539 488100
PHOTO CAPTION: Taken seriously at last... Helen Daniels shows off her invention, the Flatmate duster, which she demonstrated on television last week.
E-Mail Link: info@flatmateduster.com


Comment on this story
[board listing] [login] [register]
You must be logged in to post messages. (login now)