Itís official, Harry is now the top coach
Thursday, 31st May 2001.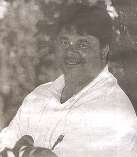 HAVERHILL Town is to be coached next season by a UEFA qualified coach.
Harry Stockings, 42, of Mellow Walk, was awarded his UEFA Coaching Licence after training alongside players and coaches from Manchester United, Millwall, QPR and West Ham.
Mr Stockings, who received his certificate in the post last Friday, said: "It was very hard work, and it's not for the faint-hearted, that's for sure.
"The only reason I took up football coaching was because my oldest son started playing football when he was 10.
"Dads turned up to coach with all the best intentions in the world so I took on the role. For the good of football in the town I would encourage people to go on a course which will benefit the town as a whole."
Bryan Jones, chairman of Haverhill Town, said: "Harry's qualifications add real quality to the future of football in Haverhill. In the fullness of time coaching of this calibre will put Haverhill on the map alongside the major cities and towns of Norwich, Ipswich, Peterborough and Cambridge."
As well as coaching Haverhill Town, Mr Stockings also has a part-time job coaching for Tottenham Hotspur in their Football in the Community office.
Mr Stockings said: "Although only a minor role at Tottenham Hotspur, I was ecstatic at getting the job.
CAPTION: Goal in sight Ö Harry Stockings, with his UEFA qualification, will be coaching Haverhill Town next season.

Comment on this story
[board listing] [login] [register]
You must be logged in to post messages. (login now)