Junior girl golfers provide good competition
Tuesday, 20th September 2011.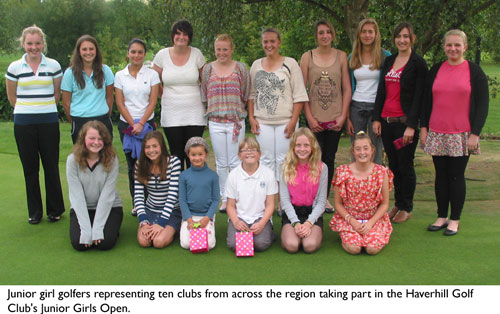 Haverhill Golf Club hosted its Junior Girls Open on Sunday, September 18, and in total 19 girls representing ten golf clubs from across the region took part, including five girls from Haverhill.
The event comprised an 18-hole medal for handicaps from 0 to 20, an 18-hole stableford competition for handicaps 21-36 and a ten-hole stableford competition for girls without an official club handicap.
The results were as follows: the scratch competition was won by Melissa Schroeder from Rushmere with a gross 86.
The winner of the 18-hole medal was Chalani Allan of Gog Magog with 88-17-71, in second place was Sarah Jane Barker from Rookery Park with 89-15-74 and in third place was Eleanor Tindall from Stowmarket with 88-12-76.
The 18-hole Stableford competition was won by Gabbie Kenworthy from Ipswich with 37ps, in second place was Charlotte Platt from Bourn with 33pts and in third place was Charlie Woodage from Bramford with 30pts.
For Haverhill junior girls, the winner of the 18-hole stableford competition was Alice Iron with 45pts and in second place Nicole Pike with 39pts. As a result Alice has had her handicap cut by five shots to 26 and Nicole is now down to 32.
The 10-hole stableford competition was won by Anna Guest from Gog Magog with 12pts and in second place was Jade Wilkins from Haverhill with 7pts. Haverhill's lady captain Marian Mercer and head professional Paul Wilby gave the prize presentation afterwards.
On Wednesday, September 14, the men's midweek medal was played. The overall winner had to be decided on countback, and Lyndon Brown just edged out Lee Chandler, as they both scored a fabulous nett 66.
As a result both have had their handicaps reduced by one shot. The full results were: Division One, 1 Lyndon Brown 78-12-66; 2 Lee Chandler 74-8-66; 3 Paul Bartlett 76-8-68.
Division Two, 1 Hayden Durrant 89-20-69; 2 Mark Wells 89-19-70; 3 Stuart King 87-14-73.
Division Three, 1 Graham Hepworth 93-23-70; 2 Barry Shuter 94-22-72; 3 Stuart Haworth 94-21-73.
The following day the men's stableford competition was played and once again some excellent scores were returned. Only 18 took part and so the event was run over just one division.
In first place with a score of 39pts was Frank Smith, in second place was Jim Walker with 37pts and in third place Syd Gould with 36pts on countback.
The Maggie Vale Memorial Day was held at Haverhill on Tuesday, September 13. Once again, there was tremendous support for this event, held to raise funds for The Teenage Cancer Trust Unit at Addenbrookes and Little Princess Trust, in memory of Haverhill member, John Vale's daughter Maggie.
This year the funds raised reached an impressive total of £2,500. The prize-giving was made by Haverhill's head professional, Paul Wilby and the results were as follows:
Nearest the pin on second was Pat McGarr, on eighth was Roger Hartley, on 12th was Mick Dalena, on 16th was Kevin Hayes; the longest drive for men was Matt Farlie and for ladies Kathy Bowman.
Two first prizes were awarded, one for teams comprising players with an official handicap - Neil Farlie, Matt Farlie, Glenn Hughes and Paul Stevenson who scored 88pts, and another prize for the team that included players without an official handicap - Mick Dalena, Richard Parker, Pat McGarr and Neil Clayton who scored 91pts.
In second place were Kevin Hoyes, Steve Kiddy, Steve Alba and Conor O'Brien with 86pts and in third place were Haverhill president, Chris Briggs, Dennis Harkness, Ian Dobbie and Karen Wilby.
Afterwards John Vale thanked everyone for their support, kind generosity and for making the day a great success.
Haverhill ladies played in a friendly match against Heydon Grange on Thursday, September 15, where they enjoyed a convincing away victory 3-0.
The match results were: lady captain Marian Mercer & Jo Stokes beat Wendy Osborne & Tineke Westerhuis 3&1; lady vice-captain Doreen Darbey & Val Shipp beat Janet Oxford & Fran Hawken 2&1; Sally Price & Gerry Wheatley beat Hazel Hayden & Mandy Handscombe 1 up on the 18th.
Unfortunately the tables were turned when Haverhill ladies hosted a friendly match at home against Menzies on September 17, where they lost their match 4½-2½.
On Sunday, September 18, the Woodlands Cup was played, the format four ball better ball, stableford pairs. The handicap limit was 18 and the allowance was 7/8ths.
Claiming the victory with an amazing score of 47pts were Steve Nichols and Paul Borowy, three points clear of their nearest rivals. There were four pairs sharing the same score of 44pts which had to be decided by count back, and in second place were David Mayers and Howard Craven, and in third place Stuart King and Paul Bartlett.

Comment on this story
[board listing] [login] [register]
You must be logged in to post messages. (login now)