Junior golfer Liam heads huge field of 94
Wednesday, 13th April 2011.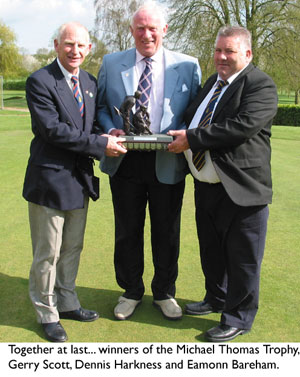 On Sunday the men's medal and first leg of the Cecil Darken Cup (for over 50s) was played at Haverhill Golf Club. A huge field of 94 took part, and the conditions were excellent.
Congratulations go to the overall winner, Haverhill junior Liam Merritt, who scored a fantastic nett 66. Liam has now got himself down to single figures, playing off a handicap of nine.
The full results were: Division One, 1 Liam Merritt 76-10-66; 2 Andy Fish 74-4-70; 3 Andy Softley 83-12-71.
Division Two, 1 Simon Price 84-17-67; 2 Bryan Graham 87-17-70; 3 Stuart King 83-13-70.
Division Three, 1 Geoff Gallaway 94-26-68; 2 Paul Meeks 92-23-69; 3 Terry Symonds 98-28-70.
The medal event was also the qualifier for the National PGA Pro-Am, sponsored by Virgin Atlantic. There were two players with a nett 70 who had entered the competition, however it was Stuart King (on countback), who will accompany Paul Wilby, Haverhill's head professional, to the regional final at Thorpeness on August 30.
The Ladies April medal at Haverhill Golf Club was played on Wednesdayand Saturday, April 6 and 9 and winning overall was Pat Kennedy with a nett 69, and as a result Pat's handicap has been trimmed to 17.
Wednesday's results were: 1 Jacqueline Condon 89-19-70; 2 Judy Farren 106-34-72; 3 Sally Price 98-24-74. Saturday's results were: 1 Pat Kennedy 87-18-69; 2 Chris Bridgeman 112-36-76, 3 Sue Carr 89-13-76.
On Thursday, April 7, the ladies friendly against Saffron Walden was played at Haverhill. All the matches were very close, with the hosts just dipping out to the Saffron Walden team by 1½-2½.
The seniors had mixed results in their recent matches - on April 1 they played at home against Lord Notleys and won 4½-3½, on April 5 they were at home against Newmarket, where they lost 2-6 on April 6 they played an away match against Girton and lost 3½-4½, and finally on April 11 they lost their away match against Braintree 3½-4½.
Haverhill were drawn at home against Stowmarket in the first round of the Parks Trophy on Tuesday, April 12. The tournament format is teams of eight, playing fourball better ball, for players aged 55 and over, two of whom must be a minimum age of 65.
The full results were (Haverhill team first): Eamonn Bareham & Gerry Scott won 4 up against David Barnes & Mick Cobbold; Dennis Harkness & Chris Briggs finished all square against Ken McCredie & Mike Toon; Derek Thomas and Gordon Price lost 6 down to Nobby Clark and Keith Rooney; and finally Alan Carter and Eric Kiddle lost 3 down to Bill Darling and Jeff Gilham. The overall result was Haverhill lost to Stowmarket by five.
Belated congratulations go to the Haverhill team who won the Michael Thomas Trophy, which was awarded at the Seniors Open that was hosted by Haverhill back in September 2010.
At last the team were able to get together for a photograph! They won with an impressive combined score of 231, from left to right: Gerry Scott (gross 76), Dennis Harkness (gross 79) and Eamonn Bareham (gross 76).

Comment on this story
[board listing] [login] [register]
You must be logged in to post messages. (login now)