Junior golfer lifts Foundation Cup
Wednesday, 4th May 2011.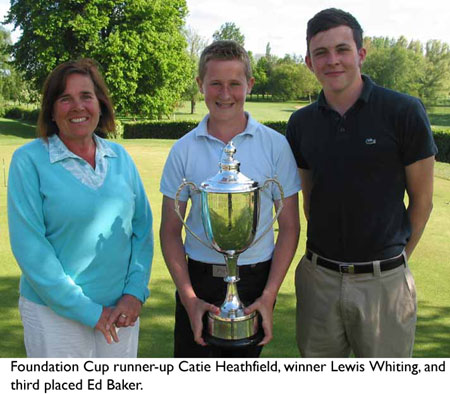 Over the bank holiday weekend, the first major of the year, the Foundation Cup, was contested at Haverhill Golf Club. The event was open to all sections of club with a max handicap limit of 18 for men, 21 for junior boys and 30 for ladies and junior girls.
Despite the windy conditions Haverhill junior, Lewis Whiting claimed a convincing four-shot victory over his nearest rival with 72-67-139.
In second place, with two very consistent rounds, was Catie Heathfield with 72-71-143, and in third place Ed Baker 75-69-144.
The results of each medal round (qualifier off actual handicap) were: first leg, 1 Frank Gooch 90-20-70; 2 Mark Carpenter 89-18-71; 3 Jack Warwick 77-6-71. Second leg, 1 Lewis Whiting 77-10-67, 2 James Higham 89-21-68, 3 Harvey Bavester 77-8-69.
On Thursday, April 21, the junior ĎAí Steam competition was played, as medal format for handicaps from 0- 28 and as a stableford for handicaps 29-36.
Stephen Boyles had a fantastic nett 64 to reduce his handicap to 15. The full result was: 1 Stephen Boyles 80-16-64; 2 Richard Boyles 75-8-67; 3 Liam Merritt with 77-9-68.
Winning the Stableford event was Louis Martin with 40pts and in second place was Joel Walters Smith with 38pts. Oliver Hays, who has recently joined Haverhill Juniors and hasnít yet been assigned an official handicap, scored an incredible 44pts, playing off 36.
Rushmere ladies visited Haverhill on the same day to play their return match in the Weston. The match was very close but Haverhill were unable to make the most of the home advantage and lost overall 2-3. The remaining Weston fixtures are home and away against The Suffolk, which are scheduled in May and June.
The Ladies April Stableford was played on Wednesday and Saturday, April 20 and 23. The overall winner was Karen Wilby with 36pts on countback from second place Theresa Spittle with 36pts, and in third Judy Farren with 35pts.
The juniors played in the P Franklin on Friday, April 22. There was a good turnout for both the medal and stableford competitions. Mitchell Davis had an amazing round, and as a result he has had his handicap cut by 3 to 17.
The full results were: Medal 1 Mitchell Davis 79-20-59; 2 Liam Merritt 76-9-67; 3 Stephen Boyles 82-15-67. Stableford 1 Joshua Hulyer 34pts on countback, 2 Alice Irons 34pts on countback; 3 Louis Martin 34pts.
The menís friendly match against Bourn was played on Saturday, April 23, and it was a successful result for Haverhill, with a 4-1 victory.
On Wednesday, April 13, Haverhill seniors played an away match against Royston which resulted in a 4-4 draw. On April 15, the seniors were drawn against Thetford at home where they won 6-4 and on April 28 they were drawn at home against Waldringfield and had a convincing win, 6Ĺ-1Ĺ.
The Mick Beddoes Cup was played on Bank Holiday Monday and the winning pair were Sue and John Carr with 37pts. In second place were Lyn and Andy Fish with 36pts and in third place on count back, Ailsa Patullo and Chris Irons with 35pts.
The April IFF Challenge was played on Wednesday, April 27. Some excellent results were returned and the overall winner, Roger Wheatley, had his handicap trimmed by three shots to 16 after his nett 62.
The full results were: Division One, 1 Peter Garner 77-10-67; 2 Andrew Bareham 71-3-68; 3 Craig Sisson 72-4-68.
Division Two, 1 Roger Wheatley 81-19-62; 2 Neil White 84-20-64; 3 Geoff Dorkins 87-20-67.
Division Three, 1 Paul Donno 91-22-69; 2 Ken Johnson 95-22-73; 3 Bob Spittle 98-24-74.
The Menís International Pairs was played on April 29 as a four ball better ball stableford. Some impressive scores were returned, and brothers Spenser and Julian Lee have qualified for the regional final to be held at Belton Woods Golf Club on 5th September.
The full results were: 1 Spenser Lee & Julian Lee 44pts; 2 Gordon Price & Del Thomas 41pts on countback; 3 Colin Rudge & Kim Ward with 41pts on countback, just edging out Robert Rudge and Mel Stuart also with 41pts.

Comment on this story
[board listing] [login] [register]
You must be logged in to post messages. (login now)