Junior golfers busy during break
Tuesday, 8th June 2010.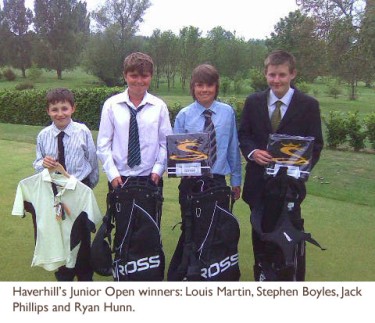 Half term week saw plenty of golfing competitions for the Haverhill Golf Club's junior section, starting with the Spring Cup on Tuesday, June 1.
Congratulations go to Dan Bentley, the overall winner, who was playing off yellow tees with a handicap of 36. His gross score of 96 nett 60 has meant he has now reduced his handicap sufficiently to play off the white tees.
In second place was Charlie Sigler 81-17-64 and in third place Chris Vince 74-5-68.
On Tuesday evening, during a social club competition, parks captain Malcolm Klingle scored an ace on the par thee 116-yard eighth hole, off the yellow tees, using a pitching wedge.
The Menís June Stableford was played on Wednesday, June 4. Haverhill junior Richard Boyles just edged an overall win with a very impressive 43pts.
The full results were: Division One,1 Richard Parker 42pts, 2 Jonathan Moore 39pts; 3 Robert Rudge 38pts. Division Two, 1 Richard Boyles 43pts; 2 Keith Donno 41pts; 3 Peter Bowers 40pts. Division Three, 1 Stephen Boyles 42pts; 2 Neil White 37pts; 3 Brian Harney 37pts.
The Lady Captainís Charity Day was held on Thursday, June 3, with ten clubs represented from Suffolk, Essex and Cambridgeshire.
The competition was played in a stableford format - two to count on the first six holes, three scores to count on 7-12, then all scores to count on holes 13-18.
Winning with a phenomenal 110pts were Liz Laflin, Jo Finter, Fiona Ferrie and Kim Davies from Stowmarket.
In second place, also from Stowmarket, with 93pts were Julie Blemings, Teresa Wardlaw, Beverly Waspe and Linda Bensley. In third place were Carol Davies, Carolyn Harris, Pat Souter (Braintree) and Karen Thake (The Essex) with 90pts.
A hole-in-one putting competition was also held to help raise funds, and Kim Davies managed to sink the massive 70ft putt!
The total funds raised for the the day amounted to £676.45, and this year's lady captain, Sally Price, thanked all those for supporting the event. Sally's chosen Charity for this year is the RNIB and the funds will be donated towards the Talking Books scheme.
Haverhill hosted its Junior Open on Saturday, June 5. There were some amazing scores with Robert Salter winning the overall scratch prize with a fantastic 75-5-70.
The event was divided into handicap categories and the full results were as follows: Category A (handicaps 0-14), 1 Jack Phillips 76-13-63; 2 Paul Waring 78-11-67; 3 Sam Palmer 76-7-69. Category B (handicaps 15-28), 1 Stephen Boyles 84-26-58; 2 Richard Boyles 78-16-62; 3 Liam Merritt 84-16-68. Category C (10 hole stableford): 1 Louis Martin 34pts, 2 Daniel Bradnam 32pts, 3 Joshua Hulyer 26pts. Winning the away member's prize was Ryan Hunn 82-12-70 and in second place was Kyle Procter 81-10-71.
The Ladies Wednesday medal on June 2 saw past lady aptain Doreen Darbey on top form once again, scoring a very commendable 100-28-72, reducing her handicap by one shot.
In second place was Mary Sail 91-16-75 and in third place lady captain, Sally Price 102-26-76. For the Saturday Medal, Anna Fairhead won by fve clear shots and has subsequently had her handicap reduced by three to 20. The results were: 1 Anna Fairhead 90-23-67, 2 J Condon 93-21-72, 3 Marian Mercer 103-30-73.
The seniors played in their match away at Ely on Thursday, June 4. They continued their winning streak by clinching victory 3Ĺ-2Ĺ.
On Sunday, June 6, the Roger Turley Putter combined with the Leonard Cheshire Disability Charity Event (Golfability) was played as a stableford event open to all Haverhill club members.
The event raised £172 through entry fees and a sweepstake to choose the winner of the competition. There were some excellent scores and the winner of the Roger Turley Putter was Haverhill junior, Richard Boyles with 43pts.
During Richardís successful week, his handicap has been reduced by three shots and he now plays off 13. In second place was Charlie Sigler with 41 pts on countback from third place David Pipe.
The best score from the ladies section was Lyn Fish with 40pts. Both Richard and Lyn will be entered into a national prize draw to win an invitation to the final at the Marriott Forest of Arden on September 6.
Haverhill Ladies played their first county fixture, away against Stowmarket, in the Stearn on Monday, June 7. The hosts dominated the morning matches to establish a comfortable lead going into the afternoon.
Unfortunately, the team from Haverhill (Mary Sail & Jackie Condon, Denise Walker & Kathy Bowman, Sue Carr & Karen Wilby) were unable to reduce the deficit and the final match was conceded as a half, with Stowmarket winning 2Ĺ-Ĺ.
Haverhill's vice lady captain, Marian Mercer, thanked the Stowmarket team for their hospitality and wished them well for their next match.

Comment on this story
[board listing] [login] [register]
You must be logged in to post messages. (login now)