Junior golfers collect end-of-season awards
Monday, 20th February 2012.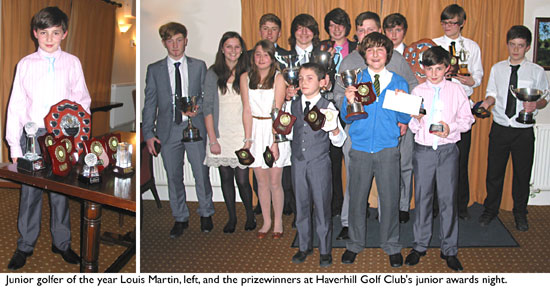 Haverhill Golf Club's junior annual meeting and presentation evening was held on Friday, February 17, organised by Linda Macfarlane, chair of the junior committee.
In all, 58 members and guests were invited, including Haverhill's club president, Chris Briggs and club captain Keith Brown, to celebrate the success of Haverhill's junior golfers. Haverhill's head PGA professional, Paul Wilby, made the prize presentations.
Winners of the monthly competitions were as follows: February Medal, Ed Baker; March Stableford, Lewis Whiting; October Medal, Ollie Stevenson; December Medal, Liam Merritt.
The winners of the Trophy Competitions were: A Steam (sponsored by R Woolmer) Stephen Boyles (Medal) and Louis Martin (Stableford). P Franklin (sponsored by Eamonn Bareham) Mitchel Davis (Medal), Joshua Hulyer (Stableford). Spring Cup (sponsored by Spencer Tatum) Michael Perrett (Medal), Ollie Fish (Stableford). Waddup Windows (sponsored by D Waddup) Ellis Brown (Medal), Louis Martin (Stableford). Junior Foursomes (sponsored by John Wilding) Ollie Fish & Ollie Stevenson. D Quinney Trophy (sponsored by Dave Quinney) Daniel Bentley (Medal), Joshua Hulyer (Stableford). P Bowers Trophy (sponsored by Peter Bowers) Stephen Boyles (Medal), Louis Martin (Stableford). CAB Edwards Junior Club Championship (sponsored by Chris Edwards) Chris Vince (Scratch), Hayden Durrant (Handicap). Junior Autumn Shield (sponsored by Spencer Tatum) James Higham (Medal), Daniel Walker (Stableford).
Winning the Abu Dhabi Competition for boys was Michael Perrett and for girls, Alice Iron. The winner of the Junior Captain's Day 18-hole competition was Alice Iron and Louis Martin for the 18-hole Stableford.
Special Awards for achievements throughout the 2011 season were presented as follows: The Birdie Tree winner was Liam Merritt (with 13 birdies), in second place was Richard Boyles (with 10) and in third place Michael Perrett (with 9). T Weller Eclectic Cup (sponsored by Tony Weller) was won by Liam Merritt. Stableford Shield (sponsored by Linda Macfarlane and Terry Bishop) was won by Louis Martin. Committee Trophy (sponsored by the 2011 Committee) was won by Joshua Hulyer.
The club member of the year (sponsored by Joe Davis), was awarded to the golfer with the best positive attitude, behaviour and etiquette both on and off the golf course, and was won by Edward Halpin.
The golfer of the year (sponsored by Pam Ratford) was awarded to the junior golfer with the most accumulated points for competition entries and for being placed in competitions throughout 2011. This was won by Louis Martin with 49pts, in second place was Liam Merritt with 47pts and in third place was Daniel Bentley with 45pts.
After the prize presentation, Andy Martin, from the junior committee, presented Linda Macfarlane with a bouquet to thank her for all her hard work.
Linda was instrumental in Haverhill Golf Club being presented with the prestigious Golf Mark Award at High Achiever level, and she was recently awarded Golf Club Volunteer of the Year for Club Development at an Awards Ceremony held in Ipswich back in November 2011.
After having served five years on the Junior Committee, and four years as chair, Linda will be handing over the reins to her successor, Andy Martin.
Other Results:
The Ladies Stableford competition was played on Saturday, February 18. Despite the poor weather conditions, Jane Herrington was the runaway winner with a fantastic score of 45pts. As a result Jane has had her handicap cut by four shots to 23. In second place was Mary Sail with 30pts and in third place Jackie Condon with 28pts.

Comment on this story
[board listing] [login] [register]
You must be logged in to post messages. (login now)