Junior golfers get off to a good start to half-term
Thursday, 9th June 2011.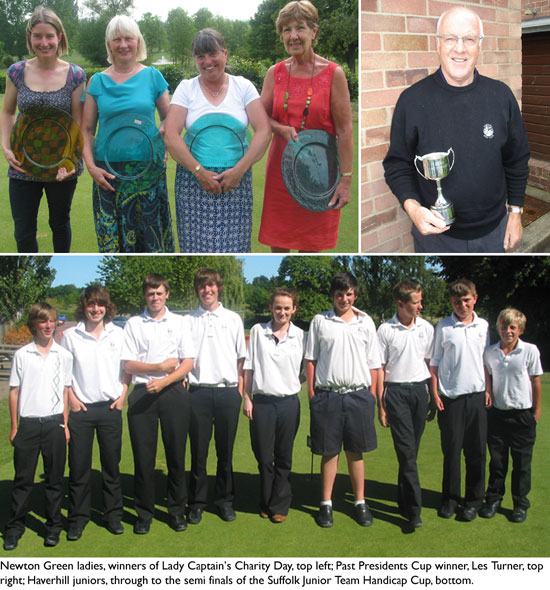 Haverhill junior golfers started off the half term holiday with the Spring Cup at Haverhill Golf Club.
Winning with an amazing round of 72-12-62 was Michael Perrett, and as a result he has had his handicap trimmed by 2 shots to 10.
In 2nd place was Daniel Bentley 88-25-63 and in 3rd place Stephen Boyles with 78-14-62. In the stableford competition, Ollie Fish was the winner with 41pts, Ollie Stevenson finished in 2nd place with 38pts on count back from 3rd place Louis Martin also with 38pts.
On Saturday 4th June, the Haverhill Junior Boys Open was held. The competition came under three formats, medal for handicaps scratch-28, an 18 hole stableford competition for handicaps 29-36 and a 10 hole stableford competition for non handicap juniors.
Haverhill junior, George Goldhawk was the winner of the medal event, with a fantastic score of 86-20-66 on count back, just edging out Daniel Bentley also from Haverhill, with 88-22-66.
Michael Gee from Bury St Edmunds Golf Club finished in 3rd place with 87-20-67 and in 4th place Jay Gayle 86-18-68 from Fynn Valley.
The 18 hole stableford event was won by Haverhill's Ollie Fish with an incredible 47pts, which included an eagle on the par 5, 6th hole. In 2nd place was Edward Halpin (Haverhill) with 37pts on countback from 3rd place Joshua Hulyer (Haverhill) also with 37pts. In 4th place was Ben Bradnam (Haverhill) with 35pts.
The 10 hole stableford competition was won by James Iron (Haverhill) with a fantastic 28pts. Kris Dunbavin (Newmarket) finished in 2nd place with 19pts. Longest drive was won by Darren Dunbavin (Newmarket) and nearest the pin by James Higham (Haverhill).
The Haverhill Junior Team was drawn against Stowmarket Juniors at home on Friday 3rd June, for the second round of the Suffolk Junior Team Handicap Cup.
At the half way stage Haverhill were up in 4 matches and down in 2. However things swung back in Stowmarket's favour as they played the back nine holes.
With some of the scores being very tight, it was the penultimate match on the 18th green, where Stephen Boyles sank his putt to halve his match to ensure that Haverhill won the competition 3½-2½.
Haverhill Juniors are now through to the semi-finals and await the draw to see who they meet in the next round. The results were (Haverhill Juniors first): Richard Boyles - won 3&2 against Angus Chisholm, Liam Merritt won 5&4 against Jack Forfan, Lewis Whiting won 1 up against Owen Clouting, Michael Perrett lost 4&3 against Aran O'Doherty, Stephen Boyles halved against Matt O'Doherty, Mitchell Davis lost 4& 3 against Joe Chalk.
On Thursday 2nd June the Lady Captain's Charity Day was held to raise funds for EACH (East Anglia's Children's Hospices). The day was very well supported and the total funds raised amounted to £792.36.
The event format was stableford with the best 2 scores to count on holes 1-6, the best 3 scores to count on 7-12 and all scores to count on 13-18.
The results of the competition were: 1st place Diane Cunningham, Norma Humphries, Emily Penfold and Sally Cade from Newton Green with 110pts. In 2nd place was Val Bethell, Sue Snell, Anita Malborough and Marilyn Parmenter from Braintree with 108pts and in 3rd place Kim Davies, Lizzie Laflin, Joanne Finter and Georgina Holmes from Stowmarket with 108pts.
Nearest the pin was Liz Benzance from Bury St Edmunds and the longest drive went to Lizzie Laflin from Stowmarket. The following ladies also scored birdies as follows: Diane Cunningham on 6th, Sandra Hodge on 10th, Lizzie Laflin on 4th and 10th and Georgina Holmes on 6th.
Haverhill's Paul Houchen and Andy Fish, (both playing off a handicap of 5), are through to the final of the International Pairs Summer Matchplay competition - Regional Draw East.
They eventually beat the pair from Bury St Edmunds, Mike Verhelst (who plays of a handicap of 6) and his partner Gerry Day, (who plays off a handicap of 9) on the first extra hole. Paul and Andy will be drawn at home for the final against the winners of the other semi final match between Abbotsley and Caddington.
The Ladies medal, played on Wednesday 1st June, secured another comfortable win for Jackie Condon with 88-18-70. In 2nd place was Judy Farren 107-34-73 and in 3rd place Sheila Playle with 107-34-73.
Haverhill seniors had mixed results in their matches during last month. On May 6th they had a comprehensive home win against Menzies 7-1. On 13th May at home against Gosfield they lost 5-3, followed by an away fixture at Bury St Edmunds on 16th May, where they lost 5½-2½.
For the rearranged match away at Felixstowe also on 16th May, they lost 8-0. On 17th the Seniors travelled to Heydon Grange where they lost 6-2 then on 20th they hosted the match against The Suffolk, which they won 5½-2½.
Another home draw yielded a 7-1 victory against Bourn, however on 2nd June they lost away to Ely 5½ - 2½. Finally on 3rd June the Seniors played a home match against Flempton where they lost 5-3.
Another Suffolk trophy has recently arrived at Haverhill Golf Club, following the success of Les Turner at the Suffolk Golf Captain's meeting held at Ufford Park near Woodbridge.
A past president of the organisation, Les gave every indication during the morning 9 hole round, when he finished in second spot, that he would be a serious contender for the first running of the Past Presidents Cup, which was played during the afternoon over 18 holes as a Stableford competition.
The trophy was donated by another past holder of the presidency, Dennis Cayless from Rookery Park. Other recent county trophies captured by Haverhill members have been the Suffolk Amateur Foursomes, won by David Quinney and Chris Vince along with the Senior's Team Event (Michael Thomas Trophy) won by Gerry Scott, Dennis Harkness and Eamon Bareham.
On Monday 6th June, Haverhill Ladies played in the first round of the Stearn Trophy 2011, drawn away against The Suffolk.
Both teams battled through heavy rain and the result of the morning matches were (Haverhill players first): Sue Carr & Pat Kennedy 1 down against Angie Lewis and Karoline Chan, Mary Sail and Denise Walker 3 up against Trish Mortlock and Kerry Lee, Jackie Condon and Anna Fairhead 3 up against Bernice Bugg and Joan Plumb.
The scores were carried over into the afternoon matches, and fortunately the weather conditions improved. The final results were: Sue Carr and Pat Kennedy lost 1 down against Angie Lewis and Karoline Chan, Mary Sail and Denise Walker lost 2 down against Trish Mortlock and Kerry Lee, Jackie Condon and Anna Fairhead won 9 up against Bernice Bugg and Joan Plum.
It was a valiant performance by Haverhill, however The Suffolk went onto win the matches by 2-1. Lady Captain, Marian Mercer commented all the matches were played in good spirit and she wished The Suffolk team well for the next round.
The Suffolk are due to visit Haverhill on Friday 10th June for their return Weston fixture, and Haverhill are hoping for a good result at home.
Haverhill took part in the National Golf Club Challenge to raise funds for Help for Heroes on Sunday 5th June. The event was combined with the popular social event The Roger Turley Putter in memory of Roger Turley, who was renowned for his practical jokes.
Winning the stableford competition with 40pts was Paul Donno, as unfortunately Mark Hilton who also scored 40pts had an inactive handicap. It was closely run for 2nd place, but it was Jack Bligh with 39pts on countback from 3rd place Lyn Fish with 39pts on count back from 4th place Marian Mercer also with 39pts.
For the National Golf Club Challenge, the top ten scores from the men's section and top 5 scores from the ladies section now go forward to see if Haverhill will qualify to compete at the Grand Final to be held at Turnberry in August.
Last year Haverhill finished 10th overall in the UK, and just missed out on qualifying for the final by only 4 points. The golf was followed by an auction and barbecue and the total funds raised for Help for Heroes was £502.50.
Paul Donno was the winner of the Roger Turley Putter and he was presented the trophy by Roger's son Mark, who also donated several of the 'whacky' prizes consisting of a custom made toilet brush driver and a putter with a toilet brush handle!

Comment on this story
[board listing] [login] [register]
You must be logged in to post messages. (login now)