Junior Richard triumphs in challenge final
Tuesday, 3rd April 2012.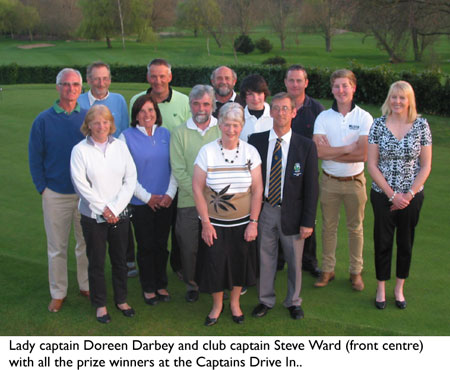 The IFF Challenge Final was played at Haverhill Golf Club on Wednesday, March 28, for all the division winners throughout the 2011/12 season.
The overall winner was Haverhill junior Richard Boyles with an excellent round of 77-8-69. In second place was Patrick Bowes with 94-23-71 and in third place Stuart Haworth with 91-19-72.
On a very cold and windy Saturday, March 31, the club was host to Suffolk County girls' second team v Cambs & Hunts.
The format was greensomes and the course was in excellent condition for the time of year with very fast greens.
The standard of play was high and the match results were: (Suffolk team first) Amy Bray & Francesca Tindall halved to Chloe Ashman, Chloe Neal; Sarah Jane Barker & Alice Iron (Haverhill) won 3&1 to Jade Guest & Annabel Gibbins; Gabby Kenworthy & Charlie Woodage lost to Jessica Gibbins & Lucy Dunkin 3 & 2 to result in a halved match overall.
The Men's Mail on Sunday Golf National Competition followed on from the girls county match on Saturday. Their opponents, The Gog Magog Golf Club, were very complimentary about the Haverhill course and, despite very cold and windy conditions, they fought very well in the early stages.
Local knowledge for the Haverhill team, however, paid dividends around the back nine, where they went on to achieve a commanding 4˝-˝ win.
The match results were (Haverhill team first): Bob Spittle halved with John Bruce; Eamonn Bareham won 3&2 against Gerald O'Keane; Andy Fish won 5&4 against Nathan Jackson; Jack Bligh won 2&1 against Dennis Edwards; and Gerry Scott won 3&2 against Rob Hardisty. Haverhill now have to wait and see who they will be drawn against for the fourth round match.
On Sunday, April 1, club captain Steve Ward and lady captain Doreen Darbey hosted their Captains' Drive In. There was a record number of entrants, 152 in total taking part.
The competition format was pairs, four ball better ball, played off full handicap and open to all sections of Haverhill Golf Club.
The weather was in stark contrast to the day before, with brilliant sunshine all day, which was reflected in the excellent scores returned.
The winning pair was Tim Daniels and David Roope with 47pts. In second place on countback were Simon Cousins and Catie Heathfield with 45pts and in third place were Andy Softley and Trevor Stanley with 45pts.
The best front nine score was Andy Gage and Russell Gritty with 25pts and for the back nine Charlie Hudson and Richard Mansfield with 25pts.
Nearest the pin for the juniors was Liam Merritt, for the ladies Anna Fairhead and for the men Len Adams.
Longest drive for the ladies was Karen Wilby and for the men Haverhill's head green keeper, Glenn Norris. Steve and Doreen gave the prize presentation afterwards and Steve also congratulated Doreen for her third time serving as lady captain.
Steve then went on to thank all the volunteers who helped with organising the day and making it such a huge success.
Haverhill juniors Lewis Whiting and James Higham have been selected to play for Suffolk U14s on Sunday, April 14, against Sussex in the first U14 county match of the season.
There is also a good turnout of Haverhill juniors for the Stoke By Nayland Junior Open to be held on Tuesday, April 10. Chris Vince, Richard Boyles, Lewis Whiting, Ellis Brown, James Higham and Hayden Durrant are all entered which is great representation for the golf club.

Comment on this story
[board listing] [login] [register]
You must be logged in to post messages. (login now)