Juniors feature strongly in golf club contests
Wednesday, 11th August 2010.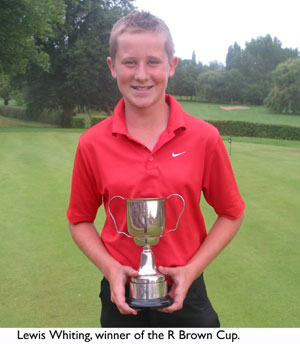 The D Quinney Trophy for Juniors was played at Haverhill Golf Club on Tuesday, August 3, and winning by just one shot was James Higham with a superb round of 92-27-65.
As a result James has reduced his handicap by two. In second place was Liam Merritt with 79-13-66 and in third place Chris Vince with 72-4-68.
The Boyles brothers dominated the Junior Captain's Day on Wednesday, August 4, with Richard winning the Under 18s Abu-Dhabi Competition with a round of 79-11-68.
The top scores for 11 boys and nine girls throughout the country go on to compete in the finals at Abu Dhabi Golf Club in November. Richard's younger brother Stephen won the medal with 85-20-65 and Daniel Bentley was runner-up with 96-28-68.
Lady Captain Sally Price continued her recent form by just clinching the August medal on Wednesday, August 4, on countback with 96-27-69, and has reduced her handicap to 25.
In second place was Jackie Condon with 90-21-69, also on countback, from third place Sue Carr with 82-13-69 (lowest gross). Both Jackie and Sue have had their handicaps reduced by one shot.
In Saturday's medal, Sheila Price had a comprehensive five-shot win with 105-32-73, to reduce her handicap by two shots to 30. In second place was Lyn Fish 102-24-78 on countback from third place Jackie Condon 98-20-78.
Haverhill hosted the Suffolk Junior Golf Championship on Thursday, August 5. In all, 50 competitors took part, 35 played in the 36-hole event and 15 played in the 18-hole event.
The overall winner and Suffolk Junior Champion was Mark Fosker of Felixstowe Ferry with 72-71-143. The runner-up was Chris Vince of Ipswich Golf Club with 73-71-144, with Josh Cottrell also of Ipswich finishing in third place with 75-72-147. The Under 18s handicap winner was Tom Cousins of Thorpeness with 82-84-166.
The Under 16s champion was Sam Truman of Woodbridge with 74-77-151, and the runner-up Jack Nicholson of Bury St Edmunds with 78-77-155. The Under 16s Handicap winner was Jonathan Western of Waldringfield with 80-80-160.
The Under 15s champion was Robert Salter of Ufford Park with 74-75-149, and the runner-up was Richard Boyles from Haverhill with 72-79-151. The Under 15s Handicap winner was James Biggs of Diss with 92-80-172.
The Under 14s champion was Paul Waring of Felixstowe Ferry with 77 and the runner-up was Lewis Staff of Thorpeness with 80-82-162. The Under 14s Handicap winner was Harry Burman of Rushmere with 83.
The Team Shield was won by Ipswich (Chris Vince, Josh Cottrell, Ed Banyard). In second place was the team from Felixstowe Ferry and in third place the team from Rushmere.
The seniors lost their match away to Gosfield on Thursday, August 5, by 1½-6½, but won their home match the following day against Braintree by 5½-2½.
On Sunday, August 8, the R Brown Cup was contested over 36 holes, with a field of 48 competing. Haverhill junior, Lewis Whiting took the honours, with a fabulous nett 68+63= 131. As a result, Lewis, has had his handicap reduced from 13 to 11.
In second place was last year's winner, Jack Warwick, who also put in a great performance with 64+69 133, and in third place Craig Sisson with 68+66=134. In fourth place was Lewis' father, Dave Whiting, with 67+68=135.

Comment on this story
[board listing] [login] [register]
You must be logged in to post messages. (login now)