Kedington School Pupils Explore the Beauty of Recycling
Wednesday, 2nd July 2008.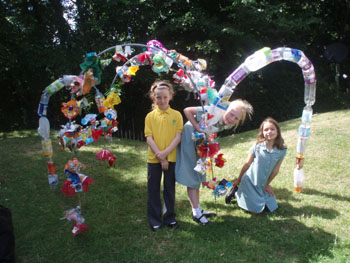 Pupils at Kedington Primary School in Haverhill have been putting their artistic and creative skills to good use by turning recycled materials into beautiful flowers and a giant butterfly.
Pupils from age's four to nine used recycled materials they have collected over the past few weeks and transform them into fantastical plastic bottle flowers and a giant butterfly.
The children learnt about different materials, and know have a good understanding of where items come from and why it is important to reduce, reuse and recycle the waste we produce in schools and the home. The colourful and striking creations will be placed for all to see and adore in the school grounds.
Eddy Alcock, portfolio holder for the environment and waste management is keen for young people to take on these important messages, he said: "If we can teach young people how to manage their waste, both at home and at school, so that these processes become a part of daily life, they will learn how to care for their environment. We want to show children that you can have fun with waste but there is an important reason for recycling as well."

Comment on this story
[board listing] [login] [register]
You must be logged in to post messages. (login now)