Kedington scouts oust Haverhill in district challenge
Friday, 18th October 2013.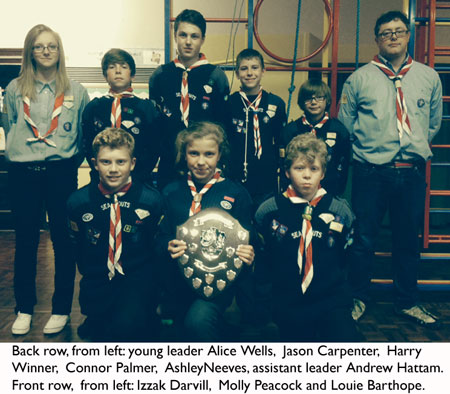 Scouts from Kedington have proved themselves the best Scouts in the district, stripping Haverhill of the crown.
Four Sea Scouts from the village won the District Commissioner's (DC) Challenge, held in Haverhill last weekend.
Izzak Darvill, Molly Peacock, Louie Barthope and Harry Winner were the four that claimed the prize, while the trio of Jason Carpenter, Connor Palmer and Ashley Neeves formed a second Kedington team.
1st Haverhill won the accolade in 2010 and 2011, while 2012 saw the event held as a centenary celebration rather than a challenge, and despite being Haverhill hosting this year's event at the Colne Valley Road headquarters it was Kedington who claimed the honour.
Seven youngsters from the troop formed two groups that were among 58 Scouts from Sudbury district to partake in an eight-mile orientating hike, activities including cooking, air rifle shooting and fire making, and generally getting by without the assistance of their adult leaders.
Hadleigh came in behind in second with Bures third. 2nd Haverhill Sea Scouts also took part in the challenge weekend.
Andrew Hattam, an assistant leader at Kedington, said: "We've not entered for a while but planned to this year, and the children astonished me with their tenacity and their drive.
"At one point during the hike we passed a group and the kids couldn't believe we had passed them as they thought we had left second but we had actually left fifth and had managed to catch up.
"It was terrible weather and we had to do activities inside and I didn't expect us to come close to winning it so was flabbergasted with a big lump in my throat when we did.
"We'll definitely be entering next year to defend our crown."
Assistant DC Karen Raffel, who organised the event and gave out the accolades, said: "It went really well – we had bad weather and had to do the cooking inside, but all the children had a good time and the
Leisure Centre
staff were really good when they went swimming.
"It was a fantastic weekend which everyone enjoyed and we had really good groups, but we couldn't have done all this without their leaders who make all of this possible."
Next year's DC Challenge will be at Bradfield Combust.

Comment on this story
[board listing] [login] [register]
You must be logged in to post messages. (login now)