King's first day on the throne brings victory
Thursday, 21st December 2000.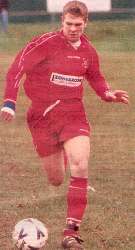 HAVERHILL'S millionaire benefactor John King could do worse than build his dreams of taking the Suffolk club to the fringes of League football around his cultured captain Paul Miles.
The former Kettering Town midfielder shone as brightly as Venus in the dusk sky as Haverhill beat Somersham Town 2-0.
He is slight of build, nimble of foot, quick of eye and with a hint of arrogance that Haverhill will need in their new King's quest to conquer everyone who steps in their way.
In short, he was Miles better than anyone on a rain-saturated pitch that turned into a Mississippi mud pie dessert of delight for Haverhill as they performed for their new monarch's first official day in charge.
And the King was impressed with his subjects, particularly Miles.
He smiled, knowing just what a superb signing the captain had been this season, and said simply: "He's on a contract."
Most of Haverhill's moves stemmed from Miles' vision in midfield, and it was fitting that both goals were initiated by him.
After a first half in which there were few chances -- a snap shot from Somersham's Carl Osbourne that was tipped over by new-signing Dave Walton, and a similar effort from Haverhill's Neil Hammond which was pushed round the post by Peter Gibbs -- it was not difficult to see why the teams had played 21 games this season and drawn half.
But that was the calm before a storm of bookings, sendings off, and goal scoring. The second half erupted as if both sides had woken from a nap.
Somersham had two players booked in the 10 minutes before half time -- Jamie Donald and Chris Bailey -- for what seemed innocuous infringements. And within seven minutes of the restart Somersham's Richard Marsden went into referee John Hopkins' book.
A minute later Haverhill were 1-0 up. Miles floated over a free kick from the right, Derrin Brindley powered in a header from about six yards that Gibbs could only parry, and the same player followed up to smash home a second header.
Two minutes later, however, Brindley was walking off with Somersham's Marsden, the Haverhill defender, for violent conduct and his opponent for a second booking.
Four minutes later Dave Green became the fifth Somersham player to be booked, and a minute later the two sides were down to nine apiece as Somersham's Darren Ray and Haverhill substitute Danny Johnston were red-carded for violent conduct.
By now there was so much space to play that the match resembled a five-a-side game -- and both teams took advantage by playing some neat inter-passing football.
And none more so than Miles. He revelled in the extra space to show his skills, and it was from a move with leading scorer Mark Brandt that split the Somersham defence and led to Haverhill's second goal. Miles might have shot, but opted to hand Brandt his 12th goal of the season.
A minute later Osbourne became the sixth Somersham player to be booked in what was a far from violent game.
Haverhill manager Paul Goodman agreed. "It wasn't a dirty match, but the conditions were heavy and there were a few late challenges. But when you raise your hands you are asking for trouble," he said.
"I thought we had most of the match and there was never any doubt we would win. We were the better side for 90 minutes."
Somersham's assistant manager Neil Morgan also felt it had not been a dirty game, but added: "To be fair, the referee had no option and we have no qualms."
The happiest man, however, was Haverhill's new owner. "It's brilliant. I couldn't have asked for a better start," said King. "It's a pity it ended nine-a-side, but even if it had finished two-a-side I would have been just as happy to have won."

Comment on this story
[board listing] [login] [register]
You must be logged in to post messages. (login now)