King's reign begins with a 6-0 win
Thursday, 7th December 2000.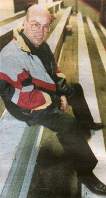 WHETHER it was the thought of their first win bonus in 4½ years or the presence of new owner John King, Haverhill Rovers were inspired to pick up their biggest win of the season at Hamlet Croft.
A dazzling display of football with goals from Adrian Hunt (2), Ben Cowling (2), Mark Brandt and Paul Jenkins, left King in no doubt that he was on to a winner.
The property and marketing businessman officially takes over as managing director and club chairman on December 16, but he watched his first home match from the stands as Rovers thumped basement side Thetford 6-0.
King has pledged to spend up to £1m with the aim of taking the Suffolk club through to the Football Conference.
He has already made his presence felt. The club has put two of its finest young players, centre-half Paul Miles and midfielder Neil Hammond, on contracts and is in negotiations to sign a player with Dr Martens League experience.
More players could be put on contracts until the end of next season, while the unnamed player is expected to join the club next week.
"We feel these two (Miles and Hammond) will definitely be playing in the Premier Division when we reach it after next season," said King.
"When you look at the games Thetford have played, they have played teams far better than us, but no one has destroyed them as much as we did. It is a benchmark."
He added: "It was a brilliant day. There was a good crowd and, for me, it was the first step on a very tall mountain. There is real team spirit and everybody went that extra yard."
Even though Thetford are bottom, without a win or a point all season. It was still their biggest defeat of the season.
But it took Rovers almost half an hour to open the scoring. A long ball from Will Jones into the Thetford box should have been easy pickings for the visiting keeper, but he dropped the ball and Hunt gleefully fired home.
Two minutes before the break, Hunt scored again. This time Brandt supplied the ammunition for Hunt, who was switched from midfield just a few matches ago, to tap in his fifth goal in four games.
On 52 minutes, Hammond illustrated the reason why King wanted him on a contract. His pinpoint, cross-field ball found Cowling and the striker lobbed the keeper from 20 yards.
Hunt turned provider for the fourth goal on the hour, when he controlled the ball and sent over a looping cross for Brandt to head home.
When Jenkins was upended in the box after 75 minutes, he dusted himself off and smashed home No 5.
Then Cowling headed in his second with nine minutes left, following a Jones free-kick which was knocked on by Derrin Brindley.
In injury time Haverhill should have scored a seventh. Cowling was brought down after a goalmouth scramble, but the striker decided to take the penalty himself to complete a deserved hat-trick and he slammed the ball over the bar.
The team's second-half performance certainly impressed manager Paul Goodman.
He said: "I did not think we were that good in the first half. Our finishing was poor and I did not think we picked the right options.
"But they played some lovely football in the second half. It was a joy to watch. They all wanted to impress him (King). I am pleased with the level of consistency and hopefully we can carry that on."
CAPTION: JOHN KING... saw his new team hit six of the best.

Comment on this story
[board listing] [login] [register]
You must be logged in to post messages. (login now)