Lack of funds dents Polley's title hopes
Thursday, 2nd September 1999.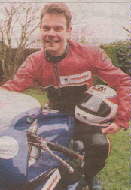 SIMON Polley, from Horseheath, is lying 13th in the formula 600 Championship, even though lack of funds has prevented his competing in four championship rounds.
Polley was previously three times Formula 250 LC Champion and moved up to his first full season in the formula 600 series only this year.
He feels his position, shown on the New Era Motorcycle Club Web Site, is a real achievement, as the series is keenly contested with 74 riders scoring championship points.
He held seventh position for four laps in the championship race before another rider collided with him and caused him to clip a wall.
That dropped him back to ninth place, were he finished, after starting from eighth on the grid.
The placing gained Polley another signature towards his National Race License, which he has an outside chance of gaining before the end of the season.
His next race will be at Cadwell Park on October 2 and 3, for rounds 12 and 13 of the championship.
Polley races with continued support from sponsors Treadfirst Tyres, of Haverhill, who supply and fit all his race tyres, but needs more backing to mount a serious title challenge.
Anyone else who can help him with sponsorship should ring (01223) 891177.

Comment on this story
[board listing] [login] [register]
You must be logged in to post messages. (login now)