Ladies celebrate special day at golf club
Tuesday, 10th May 2011.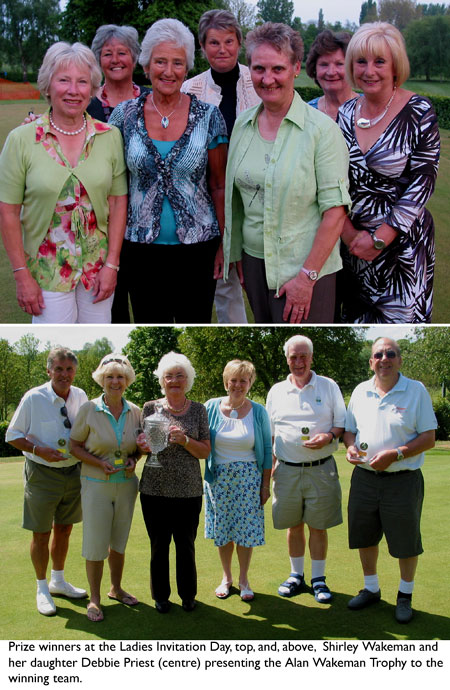 Lady vice-captain Doreen Darbey organised the Ladies Invitation Day which was held at Haverhill on Thursday, May 5.
It was a superb afternoon, especially for the ladies to welcome their guests from neighbouring golf clubs. Winning the four ball better ball event was Haverhill's Mary Sail and her guest Janet Starking from Bury Golf Club with 43pts, in second place was Haverhill's Jackie Condon and her guest Bev Allen from Bury Golf Club with 41pts and in third place was Haverhill's Christine Grainger and her guest Rita Craig from Saffron Walden Golf Club with 40pts.
The winner of nearest the pin was Bev Allen from Bury Golf Club and longest drive went to Jenny Leech from Newton Green.
Haverhill hosted the third league match of the 2011 Curry Cup on Saturday, April 30, drawn against Epping Golf Club.
The morning foursomes saw Haverhill ease into a lunchtime lead and they went onto dominate the afternoon singles matches, and the overall result was a win for Haverhill 13-5.
The full results were: morning foursomes (Haverhill players first) Andy Fish & Jack Warwick won 3&1 against A Wilson and W Sjoberg; Lee Chandler & Harvey Bavester won 1 up against R Gollveia & S Leighton; Eamonn Bareham & Liam Merritt halved their match against H Mosely & L Leggett; Graham Ashcroft & Lewis Whiting won 2 up against D Beatts & J Young; Pete McLennan & Ted Fairhead lost 5&4 against N Jacobs & S Jeffrey; Stuart King & Joe Davis halved their match against M Travers & B Gifford.
The afternoon singles match results were: Andy Fish won 9&8 against H Moseley, Jack Warwick won 3&1 against R Gollveia, Sam Palmer won 3&1 against W Sjoberg, Harvey Bavester won 5&4 against L Leggett, Eamonn Bareham won 4&3 against S Leighton, Liam Merritt won 3&1 against A Wilson, Lewis Whiting won 3&1 against M Travers, Graham Ashcroft lost 4&2 against N Jacobs, Pete McLennan won 7&6 against J Young, Ted Fairhead lost 2 down to S Jeffrey, Stuart King won 1up against D Beatts and Joe Davis lost 3&1 against B Gifford.
On Sunday, May 8, the Peggy McGhee Trophy was played in memory of a former lady captain at Haverhill Golf Club. The competition format was teams of three, with one lady and two men per team with all three stableford scores to count.
The results were as follows: 1 Theresa Spittle, Graham Ashcroft, Eamonn Bareham with 102pts; 2 Lyn Fish, Andy Fish, Liam Merritt with 100pts; 3 Catie Heathfield, Richard Peck, David Peck with 99pts.
Peggy's daughter, who lives in Australia, visits the golf club every year for this event. She very kindly donated the prizes of hanging baskets and flower tubs, as well as supplying a much appreciated 'picnic' on the eighth tee, which was greatly appreciated by all the competitors.
The seniors section competed in the Alan Wakeman Trophy on Monday, May 9. Winning the team event were Val Shipp, Geoff Dorkins, Jim Walker and Len Donno and they were presented with the trophy and individual prizes by Mrs Shirley Wakeman, along with her daughter Debbie Priest.
Peter Bowers, a past captain at Haverhill, organised a raffle on the day, which raised £70 for the junior section and he will also be donating a Callaway driver for the next seniors competition.
On Wednesday, May 4, the Midweek Medal was played and once again some fantastic scores were posted.
Winning overall was Lyndon Brown with a nett 64 and he has now had his handicap cut by a shot to 14.
The full results were: Division One, 1 Dave Pipe 72-6-66 (lowest gross); 2 Harvey Bavester 74-7-67; 3 Andy Fish 75-4-71.
Division Two, 1 Lyndon Brown 79-15-64; 2 Dan Wilkins 87-16-71; 3 Don Simpson 89-17-72.
Division Three, 1 Peter Cundall 97-28-69; 2 Gary Currell 97-26-71; 3 Grant Kingston 95-22-73.

Comment on this story
[board listing] [login] [register]
You must be logged in to post messages. (login now)