Ladies open attracts 70 golfers from across region
Tuesday, 11th September 2012.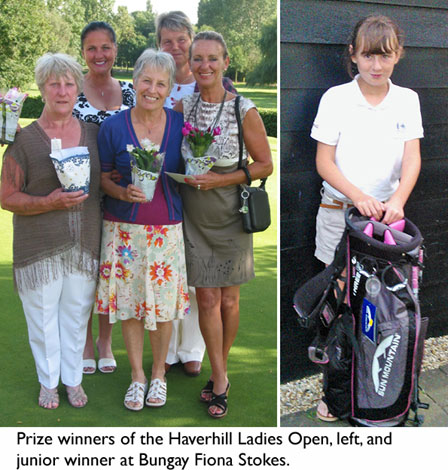 Haverhill Golf Clubís Ladies Open was held on Thursday, September 6. In all there were 70 entrants representing 16 clubs from across the East Region, and the competition was played as a pairs better ball format.
The pairs competition was won by S Coote and P Atwood from Girton with 45pts, in second place were Sonya Baterip and G Lawless from Manor of Groves with 43pts on countback and in third place Josie Tutton and Lynda Minton from Braintree with 43pts, also on countback.
The best front nine score of 23pts on countback went to Rosemary Borland and Anne Anslow of Ely City Golf Club and the best back nine score with 23pts were Jackie Casburn from Newmarket and Diane Parr from Ely City Golf Club.
Winning the longest drive was Sonya Baterip from Manor of Groves. Nearest the Pin on eighth Hole was Bev Allen from Bury Golf Club.
The prize presentation was made by lady captain Doreen Darbey, who went on to thank lady vice- captain Sheila Price, who organised the event together with volunteers from Haverhill Golf Club who all contributed to make the day a big success.
The Menís Midweek Medal was played on Wednesday, September 5, and the overall winner by four shots was John Ward with a superb nett 64, reducing his handicap by two shots.
The full results were: Division One, 1 David Simpkin 80-12-68; 2 James Higham 81-12-69; 4 Dean Cornelius 81-12-69.
Division Two, 1 Andrew Softley 81-13-68; 2 John Carr 87-16-71; 3 Stuart King 85-13-72.
Division Three, 1 John Ward 87-23-64; 2 Barry Shuter 89-21-68; 3 Lawrence Drysdale 95-27-68.
Haverhillís Tolly Team played in the final against Thorpeness at Felixstowe on Sunday, September 9. The course and weather presented perfect conditions for the matches and Thorpeness took full advantage of this to have a commanding lead by lunchtime, 13 holes up.
Haverhill battled bravely during the afternoon matches, however it was not enough to claw back the deficit. Thorpeness, who won the event back in 2003, went on to claim victory and the Tolly Trophy by 14 holes overall.
The prize-giving was made by Suffolk Golf Unionís Charlie Wilderspin and SGU president, Ron Kent. The team captains went on to thank their respective teams, caddies and supporters.
The Haverhill team on the day were: Andy Gage, Dan Wilkins, Daniel Bentley, Graham Ashcroft, Andy Craig, James Higham, Mark Barrett, Terry Lyons and Scott Turner.
Matt Farlie and Mike Elsworth were also thanked for their valuable contribution when they played in the semis to enable the team to reach the final.
Haverhill junior, Fiona Stokes, won the Junior Girls Handicap competition at the Bungay Junior Open on Sunday, September 9.
The event attracted a field of over 70 juniors from all over the East Region to take part in various categories. Fiona had an excellent round of 98-34-64 and as a result has reduced her handicap by 4 shots to 30.

Comment on this story
[board listing] [login] [register]
You must be logged in to post messages. (login now)