Lady vice-captain clinches cup win
Tuesday, 31st May 2011.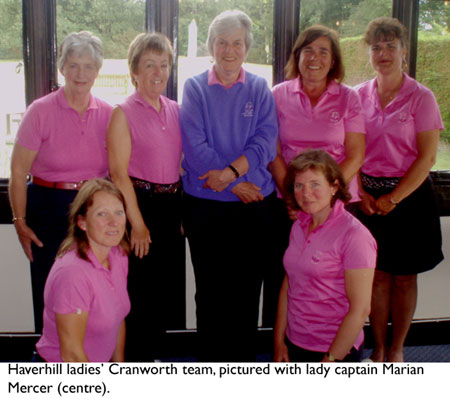 Haverhill lady golfers were drawn against Ufford Park in the preliminary round of the Cranworth. They played on neutral ground at Ipswich Golf Club (Purdis).
At lunchtime Haverhill found themselves struggling 5-10 down, but they fought back in the afternoon. In a nail-biting match, Haverhill just had the edge, with lady vice-captain Doreen Darbey securing the overall win by 23-22.
The results of the morning foursomes matches (Haverhill ladies first): Gerry Wheatley & Sally Price beat Mary Brooks & Brenda Taylor (4-1), Sarah Field & Doreen Darbey lost to Hilary Bidewell & Gill Till (½-4½), Lyn Fish & Catie Heathfield lost to Wendy Hayes & Val Moon (½-4½).
Afternoon singles matches: Gerry Wheatley lost to Mary Brooks (0-5), Sarah Field beat Hilary Bidewell (4-1), Lyn Fish beat Gill Till (4½-½), Catie Heathfield lost to Wendy Hayes (½- 4½), Sally Price beat Brenda Taylor (5-0), Doreen Darbey beat Val Moon (4-1). Haverhill ladies go on to meet Stowmarket in the next round at Fynn Valley on Thursday, June 23.
The Men's IFF Challenge was played at Haverhill Golf Club on Wednesday, May 25. The overall winner was Ian Rose who carded a nett 67 and as a result he has cut his handicap by two shots.
Congratulations also go to Richard Rand, whose highlight of the round was when he scored an ace on the 129-yard par three eighth hole using an eight iron.
The full results were: Division One, 1 Harvey Bavester 77-6-71; 2 Chris Vince 75-3-72 on countback; 3 Dave Pipe 77-5-72.
Division Two, 1 Andrew Gage 85-15-70 on countback, 2 Jonathan Wiseman 85-15-70; 3 Spencer Tatum 90-18-72.
Division Three, 1 Ian Rose 94-27-67, 2 Adrian Lord 96-25-71, 3 Mark Hilton 101-28-73.
Also on Wednesday, Haverhill seniors travelled to Seckford for the second round tie in the Beaumont Trophy. Sadly, the Haverhill team lost by eight holes.
The match results were: Peter Bowers & Rob Viney lost by 4, Bob Hammett and Colin Durston halved their match, Mike Barnham & Geoff Bush lost by 2 and Ernie Lloyd and Frank Robertson lost by 2.
The Men's May medal and second leg of the Cecil Darken Cup took place on Sunday, May 29. Winning overall with a fantastic nett 63 was Gary Webb, who has now had his handicap trimmed by two shots to 16.
The full results were: Division One, 1 Andy Tabrar 76-12-64; 2 Dennis Harkness 74-7-67; 3 Terry Lyons 81-10-71.
Division Two, 1 Gary Webb 81-18-63; 2 Dan Wilkins 84-16-68 on countback; 3 Chris Mellings 88-20-68.
Division Three, 1 Jim Mulley 92-24-68; 2 Paul Donno 91-21-70 on countback; 3 Richard Peck 91-21-70.
On Sunday, May 29, the Melford Cup was played, the format one lady, and two gentlemen – one low and one high handicap, with all three stableford scores to count.
The clear winners by 5pts were the team of Catie Heathfield, Trevor Broomfield and Jamie Morse, with 96pts points. In second place on countback were Lyn Fish, Steve Nichols and Peter Mercer and in third place Jane Herrington, Wayne Penman and Richard Peck.

Comment on this story
[board listing] [login] [register]
You must be logged in to post messages. (login now)