Last qualifier of the season draws good turnout
Tuesday, 27th March 2012.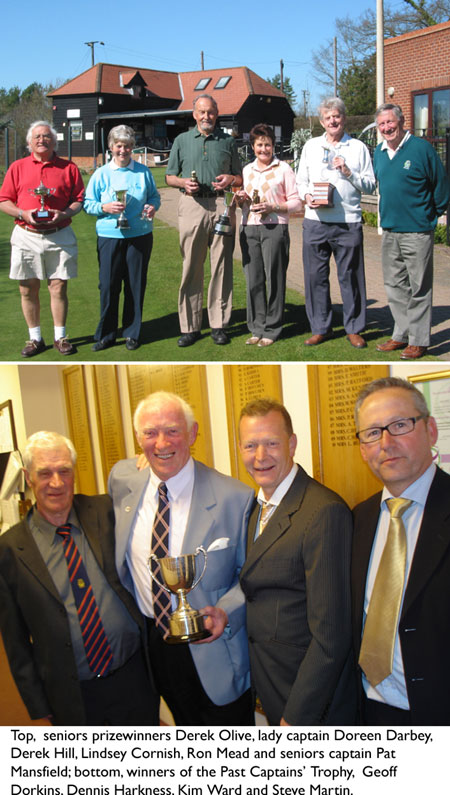 The IFF Challenge was played on Wednesday, March 21, at Haverhill Golf Club, and there was an excellent turnout for the last qualifying event of the season.
The scores were very close and had to be decided on countback over the last six holes played. Winning over all was Patrick Bowes with a nett 67, reducing his handicap by one shot to 23 in the process.
The winners of all the divisions go forward to the IFF Challenge Final to be played on Wednesday, March 28.
The full results were: Division One, 1 Eamonn Bareham 74-6-68; 2 Jonathan Moore 80-11-69; 3 Dennis Harkness 76-6-70.
Division Two, 1 Paul Wallace 87-20-67; 2 Bill Dunn 88-20-68; 3 Geoff Bush 87-18-69.
Division Three, 1 Patrick Bowes 91-24-67; 2 Grant Kingston 90-23-67; 3 John Ward 95-23-72.
The Ladies March Stableford was played over two days, on Wednesday, March 21, and Saturday, March 24, with 32 ladies taking part overall. The clear winner, with an excellent score of 37pts was Anna Fairhead, trimming her handicap by one shot to 20.
In second place was Jackie Condon with 35pts and in third place Eileen Kiddy with 32pts.
On Sunday, March 25, the Men's Rosebowl Final was played, with the field comprising all the medal winners across the divisions throughout the 2011/12 season.
The result was very close and had to be decided on countback. The winner, Carl Heath, just had the edge with a great score of 89-21-68 to claim the Rosebowl.
As a result, Carl has reduced his handicap by a shot to 20. In second place was Jack Bligh 75-7-68, and in third place Dave Whiting 75-6-69.
The past captains of Haverhill Golf Club were invited to contest the Past Captains' Trophy on Saturday, March 24. Each captain invited three guests to make up teams of four and the format was stableford, played off 7/8ths handicap with three from four scores to count.
The runaway winners with a fantastic total of 125pts were Dennis Harkness (captain 2009), Steve Martin, Kim Ward and Geoff Dorkins. Second place went to Chris Briggs (captain 2004 and club president 2007-2012), Paul Wilby, Craig Sisson & Russell Gritty with 116pts, with, in third place Malcolm Klingle (captain 1993), Bob Spittle, Gordon Price and Del Thomas with 112pts.
Haverhill Ladies played in their first Weston match of the year away at Flempton on Thursday, March 22. Unfortunately the Haverhill team lost 4-1, but as lady captain Doreen Darbey commented 'three of the matches were decided on the 18th, and it could have gone either way'.
The Haverhill team were Sue Carr, Mary Sail, Jackie Condon, Kathy Bowman and Doreen Crosbee, and they are hoping to reverse their fortunes when return match is played on Thursday, April 26, at Haverhill.
The seniors presentation day was held on Monday, March 26. Seniors captain, Pat Mansfield, gave the prize presentation following the morning's Bleasdale Cup Competition.
Lyndsey Cornish and Derek Hill were the winners and they are pictured together with all the prize winners: Derek Olive won the Mott Cup, lady captain Doreen Darbey won the Ladies Cup and the Kernutt Trophy, presented by Mrs Kernutt, was awarded to Ron Mead.

Comment on this story
[board listing] [login] [register]
You must be logged in to post messages. (login now)