Learning the importance of science
Thursday, 24th June 2010.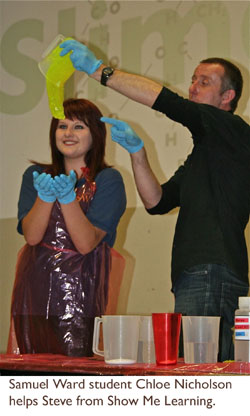 Year ten pupils at Samuel Ward Arts and Technology College attended a Show Me Learning science lecture this week, organised through Aimhigher.
Aimhigher is a national programme of activities to encourage all young people with the potential to go on to higher education to 'aim higher' and achieve that potential.
The relevance of studying science was highlighted and experiments were carried out to illustrate what sort of science that might be used in particular industries.
Students saw how technology might be used to benefit disabled people, how physics, and particularly vacuums, played a role in aircraft design and how easy it was to confuse our senses.

Comment on this story
[board listing] [login] [register]
You must be logged in to post messages. (login now)