Letting agents and couriers are most-loved businesses
Tuesday, 21st February 2012.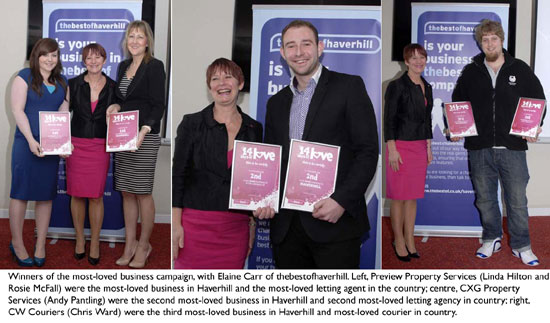 Marketing company 'thebestofhaverhill' has been helping to spread the love for local businesses over the past two weeks as part of the '14 Days Of Love' – a national campaign being run by 'thebestof'.
The campaign, now in its third year, aims to encourage people to 'show some love' for businesses during the run up to Valentine's Day.
Testimonials are posted on 'thebestof' websites around the country in support of local businesses. The campaign ended at midnight on Valentine's Day and the most loved businesses can now be revealed!
Elaine Carr, owner of thebestofhaverhill said: "It is obviously easier for some businesses to receive testimonials from their customers than for others.
"For this reason part of the campaign focuses on the most popular business categories on thebestof and identifies the most loved businesses nationally within those categories based on the number of testimonials they have received.
"Again this year, Haverhill did really well with three of our business members in the top five most loved businesses in their categories."
The winners were presented with certificates acknowledging their success at the recent bestofhaverhill event at Days Inn Haverhill.
Based on the number of testimonials received CXG Property Services is the second most loved letting agent in the country, for the second year running.
CXG are no stranger to awards and it is clear from their testimonials that they offer clients a helpful and efficient service which extends to housing people who may otherwise find it difficult to find a home. Andy Pantling from CXG accepted a certificate on behalf of the company.
CW Courier Services is officially the most loved courier service in the country based on the number of testimonials received. The words friendly and polite are used to describe owner Chris Ward throughout his testimonials. It is also evident that CW Couriers are reliable and efficient and highly regarded by their clients.
Preview Property Services was named the most loved letting agent in the country The team at Preview are loved by their clients for the way they respond to any problems that may arise and their helpful and personable attitude.
The words professional and caring are mentioned frequently as is the phrase – the best! Preview was also the most loved business in Haverhill. Linda Hilton and Rosie McFall accepted their certificates on behalf of Preview.
CXG Property Services was the second most loved business in Haverhill and CW Courier Services the third most loved.
Tracy Payne, owner of Preview Property Services said: "This is my second year as a member of thebestofhaverhill and I have to admit that until fairly recently we had never really asked our clients for testimonials.
"That changed when our apprentice Rosie joined us. She has really taken the 14 days of love campaign to heart. It's thanks to Rosie that we have ended up as the most loved business in Haverhill and the most loved letting agency in the country. I am absolutely thrilled to have these accolades.
"We want to ensure that our service removes any hassle and stress for landlords and tenants alike. We take a lot of pride in what we do and our reputation has been built on the service we deliver.
"I would like to thank all our clients for sharing their love for us; our success would not have been possible without them."

Comment on this story
[board listing] [login] [register]
You must be logged in to post messages. (login now)