Liam becomes charity's first national young ambassador
Thursday, 30th September 2010.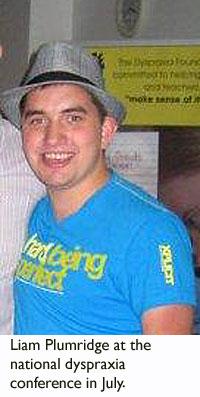 A young Haverhill dyspraxia sufferer has been made the first national young ambassador for the charity which works for the disability.
The Dyspraxia Foundation has appointed Liam Plumridge, 20, of Beaufort Court, Haverhill, as its first national young ambassador.
Liam has been appointed as a trustee of the charity following the success of the 2010 Dyspraxia Foundation conference on July 17, aimed at inspiring teenagers to discover 'Anything Is Possible'.
He will be leading the foundation's group of teens and young adults with dyspraxia, supported by a peer group aptly called 'Team Dyspraxia'.
Sally Payne, chair of the Dyspraxia Foundation, said: "We are delighted that Liam has come on board to be our national young ambassador.
"With Liam's commitment and enthusiasm I am sure we can develop more opportunities for activities for everyone with dyspraxia, as well as raise much-needed awareness of the disability and steer our young panel into making much more informed decisions about the running of the foundation and how we want to go forward.Ē
Liam's major event of his life so far is going to Ecuador to take part in the BBC2 programme Beyond Boundaries. In the third series of the programme, Liam was one of ten people chosen to take part in the expedition and trekked from the Amazon Rainforest up the Andes mountains to finish at the Pacific Coast.
The group were the first known group of disabled people to complete this type of expedition and, led by ex-SAS commando Ken Hames, they completed this rigorous trek to show that disabled people can successfully complete the 'unthinkable'.
However, this is not the only important recent occurrence in Liamís life. Liam has recently spent a year at West Suffolk College in Bury St Edmunds, participating in an access to higher education course in English, history and social sciences in which he gained a pass and as a result has gone to university.
He has just begun studying international travel management at the University of Brighton.
The WSC course is designed for adults who have no qualifications to get into higher education.
Mary Clements, course leader, said: "We are delighted that Liam has managed to pass the access to higher education course and to go on to university in which, with his confidence and enthusiasm, he can achieve greater things.
"He should be proud of overcoming adversity with his dyspraxia to go on with his life and achieve something worthwhile.
Liamís aspiration is to work once again in the travel industry after working as a travel agent and a holiday rep in Turkey. He recently worked on customer service at Tesco, Haverhill.
Speaking of his achievements, Liam said: "I am looking forward to such an amazing three or four years of my life getting involved in two of my biggest passions, raising awareness of dyspraxia and chairing the dyspraxia young peopleís panel, combined with studying the travel industry and hopefully going on to work in the industry."

Comment on this story
[board listing] [login] [register]
You must be logged in to post messages. (login now)