Liam lifts junior golf trophy
Monday, 16th August 2010.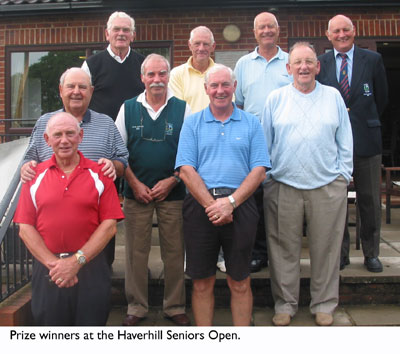 The P Bowers Trophy for juniors was played at Haverhill Golf Club on Tuesday, August 10.
Winning by four clear shots was Liam Merritt, with an excellent round of 76-12-64, and he has reduced his handicap to 11. In second place was Ellis Brown with 85-17-68 and in third place Chris Vince 73-4-69.
The Menís midweek medal was played on Wednesday August 11. The overall winner on countback was David Roope, with a nett score of 64, and has reduced his handicap by two shots.
The full results were: Division One: 1 Richard Boyles 74-8-66, 2 Lewis Whiting 79-11-68, 3 Paul Hinchliffe 75-6-69. Division Two: 1 David Roope 78-14-64, 2 Stephen Boyles 85-18-67, 3 John Stokes 83-15-68. Division Three: 1 Chris Mellings 86-22-64, 2 Geoff Dorkins 90-21-69, 3 Martin Mansfield 91-21-70.
The Seniors Open was held on Thursday, August 12, played as a four ball better ball event. The winners on countback, with a score of 42pts were Eric Howlett of Five Lakes and Mike Gladden of The Essex, in second place also on 42pts were Dennis Harkness of Haverhill and Peter Dobson of Abbotsley, in third place was the pairing of J Patey and N Stechman of The Essex with 40pts.
Nearest the pin on 8th was John Banks of Bury St Edmunds, on the 16th, Norman White of Haverhill. The best front nine score was Meston Christie and Wilf Paulson of Girton with 23pts, and best back nine score D McCormick and Brian Woods of Newmarket with 21pts.
The best score for par 3s and par 5s was Chris Wash and Bernie Gault of Gosfield. Although hampered by a few thundery showers, the day was a huge success, and Roger Campbell thanked everyone who helped organise and support the day. In total £300 was raised for Cancer Research UK.
On Saturday, August 14, the menís medal was played. Winning overall with an incredible nett 58, was Charlie Hudson; he is now playing off single figures as his handicap reduced by 2 shots to 9. The full results were: Division One: 1 Charlie Hudson 69-11-58, 2 Liam Merritt 75-11-64, 3 Mel Stuart 72-6-66. Division Two: 1 Bob Campbell 87-19-68 on countback from 2 Kim Ward 82-14-68 on countback from 3 Tom Meeks 82-14-68. Division Three: 1 Sean Doyle 92-25-67, 2 Bob Spittle 94-24-70, 3 Paul Meeks 94-34-71.
The Melford Cup was held on Sunday, August 15, played in mixed teams of three, with all three scores to count off 7/8th handicap. Winning with 88pts was the team of Lady Captain, Sally Price, Andy Fish and Peter Mercer.
In second place were Gerrie Wheatley, Graham Kennedy and David Roope with 87pts and in third place Pat Kennedy, Charlie Sigler and John Grainger with 86pts.

Comment on this story
[board listing] [login] [register]
You must be logged in to post messages. (login now)