Magnificent seven losers show value of academy
Wednesday, 14th September 2011.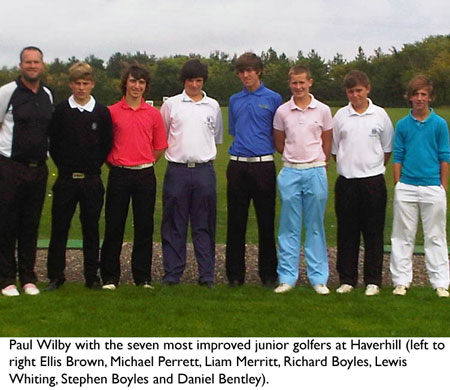 When PGA professional Paul Wilby was appointed head professional at Haverhill Golf Club in September 2008, one of his aims was to create a Junior Golf Academy.
This enabled junior members at the Golf Club to improve their skills during the 82 sessions a year set up by both Paul Wilby head assistant professional Ollie Rush.
The top seven juniors who have had their handicaps reduced since the set-up of the Haverhill Junior Golf Academy have lost on average 22 shots per player.
The juniors not only attend the sessions, held every Saturday, and on Wednesday evenings through spring and summer, but are encouraged to participate in many of the golf club's adult and junior competitions.
Paul said: "Haverhill Golf Club has always welcomed juniors into the club, and when we started the junior academy it was clear that we had a bright future.
"This is being proven with the amazing progress that has and continues to be made within the junior section. I run two golf days a year to raise funds to support the junior academy, and through the generosity of members and invited guests, I was able to implement this initiative."
The Biggest Losers are: Lewis Whiting 36 down to 8; Michael Perrett 36 to 7; Richard Boyles 30 to 8; Liam Merritt 30 to 7; Ellis Brown 28 to 11; Stephen Boyles 36 to 12; Daniel Bentley 26 to 15.
Both Paul and Ollie have been instrumental in creating a very successful junior section through their coaching. During 2010, Haverhill won the Junior Handicap Team Cup and in 2011 the Haverhill Juniors reached the semi-finals, but unfortunately lost to Ipswich Golf Club at Newton Green.
Some of the juniors have also participated in the Suffolk County Coaching Programme.
There are many benefits in being part of Haverhill's Junior Academy. Not only do juniors learn new golf skills and a sport for life, but also essential social skills, which can assist with their own personal development.
Club president Chris Briggs said: "Since Paul set up the junior academy at Haverhill, the improvement has been phenomenal. We have always been strong with our junior section, but we now have so much depth, and for the first time in the club's history, we have more than ten junior girl members.
"The members at Haverhill appreciate all the effort and commitment that both Paul and Ollie have given to our junior section."
If you are interested in joining the junior academy, please contact Paul Wilby on 01440 712628, or for further information visit the website at www.club-noticeboard.co.uk/haverhill

Comment on this story
[board listing] [login] [register]
You must be logged in to post messages. (login now)