Mahler on your doorstep - what more could you want?
By David Hart at Haverhill Arts Centre, Sunday, April 11, 2010 on Monday, 12th April 2010.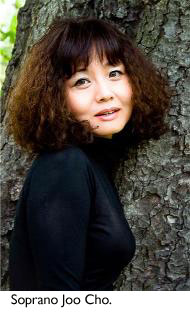 If you're a fan of live classical music, and you live in the Haverhill area, you have to count yourself pretty fortunate to have a quality orchestra giving regular concerts in the town.
And when the orchestra is joined by a soloist of the quality of Korean soprano Joo Cho, so that you can hear exquisite Mahler songs performed minutes from your doorstep, you can't ask much more.
Sunday's concert by Arnold Sinfonia, conducted by Kevin Hill, was a varied programme of classical and romantic works, with the addition of a piece by the orchestra's late composer patron, Sir Malcolm Arnold.
One of the most marked changes since the former Haverhill Sinfonia transformed to become the fully professional Arnold Sinfonia has been the greater confidence placed in the wind sections.
Several pieces tested the ensemble of woodwind and brass during this concert and they rose to the challenge splendidly.
After a sprightly rendering of Beethoven's Overture to The Ruins Of Athens we were immediately introduced to the evening's soloist.
Joo Cho possesses a rich and colourful soprano voice, beautifully controlled and pure at the top despite its vibrancy but, surprisingly, just a little dry in the lower register, where orchestra and conductor could have provided a slightly more sensitive balance.
Of the two delicious performances of Mozart arias, her voice was perhaps better suited to the maturer reflections of the Countess in Dove Sono from The Marriage Of Figaro, than to the innocence of Tamina in Ach Ich Fuhl's from The Magic Flute, but both were expressively presented by a singer who is also a persuasive actress.
But the highpoint was surely the four songs from Mahler's Des Knaben Wunderhorn where orchestra and soloist captured the combination of dancing rhythms and poignant lyricism very movingly, and the wind sections were again outstanding.
To give the soloist a brief rest the orchjestra gave an impassioned account of the Prelude to Act One of Verdi's La Traviata.
Rounding off the first half was Arnold's Serenade, jauntily given by the orchestra, and calling to mind the style of 1950s and 60s TV music to which he and his colleagues gave birth.
The second half of the concert was devoted to one work, Mendelssohn's Symphony No 4 'Italian', one of the happiest and most exhilarating pieces, and given a rousing performance.
Some ragged playing in the strings in the ebullient opening movement was soon dispelled, despite Kevin Hill's consistently lively tempi, and the finale was energetic and precise, bringing the concert to a joyous conclusion.

Comment on this story
[board listing] [login] [register]
You must be logged in to post messages. (login now)