Major bank backs Chamber Awards scheme
By Elaine Collins on Tuesday, 5th October 2004.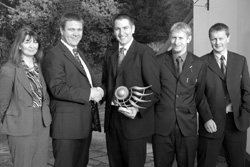 Barclays Bank has demonstrated its involvement and confidence in the local area by choosing to sponsor a category in the Haverhill Chamber Business Awards.
Barclays have been keen to support the Haverhill Chamber since its launch in February 2004 and have attended many of its past events. They were closely involved in the Chamber logo competition earlier this year, which was eventually won by Castle Manor student Robert Connor. Barclays provided prizes for all three finalists.
Mark Coxhead, Barclays Corporate Manager explained, "Barclays Bank is delighted to be associated with the Haverhill Chamber of Commerce and Industry and sees the 2005 Business Awards as an exciting opportunity to acknowledge the breadth and depth of success within the greater Business Community. We are proud to announce our sponsorship of the Business Person of the Year Award for the forthcoming awards, in what we feel will be a great event."
The awards scheme includes twelve different categories, each of which will be judged by its own specific criteria by independent experts. The primary focus will be on best practice, innovation and excellence.
The highlight and culmination of the Business Awards programme of activity will be the presentation of the awards at a Gala Ball, to be held on May 21st 2005 at Chilford Hall. The ball will be a unique event, designed to combine the fun and excitement of a glittering black tie awards ceremony with a celebration of all that is exceptional and admirable in Haverhill's business community.
Jason Fitzpatrick, Membership Co-ordinator of the Haverhill Chamber, said, "We're thrilled that Barclays Bank, one of our leading UK corporates has decided to support this initiative. We always hoped we would be able to attract global organizations, as well as local companies in order to turn a national spotlight on the town. The Haverhill Chamber Business Awards are about promoting business excellence and business expertise in the local area. We believe the prestige of Barclays name will serve to further enhance our aims."
Barclays will be joining a cavalcade of other companies, including Haverhill Business Park developer, Carisbrooke Alliance who are sponsors of the Best Small Business Award. Several well-known local organizations are in the process of choosing categories and further details will be announced over the next four weeks.
The call for nominations and entry will commence from the 1st November.
Information about sponsorship, nomination and entry, as well as booking forms for the Business Awards Gala Ball, can be found at www.haverhillchamber.co.uk in the Awards Section. Enquiries can be made to Jason Fitzpatrick on 01440 709794 or Charmaine Symonds on 01440 707717.
E-Mail Link: jason@haverhillchamber.co.uk


Comment on this story
[board listing] [login] [register]
You must be logged in to post messages. (login now)