Major operation targets town vehicles
Friday, 19th March 2010.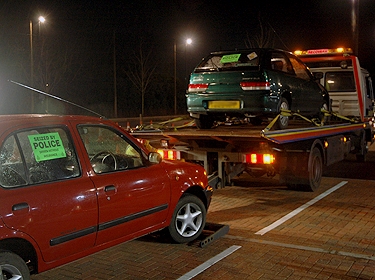 Police put a 'ring of steel' around Haverhill last night aimed at catching law-breakers via their vehicles.
As well as police from three counties targeting motorists driving faulty or illegal vehicles, other agencies were involved in searching for anything from illegal immigrants to people using red diesel.
Two people wwere arrested and four vehicles seized during the evening.
All roads into and out of Haverhill were covered by police monitoring vehicles via number plate recognition technology.
Any suspicious vehicles were then shepherded to a holding area at the Cineworld car park in Ehringshausen Way, where the various agencies were ready to investigate further.
The operation, called Ring Of Steel, lasted from 4pm to 11pm and 37 vehicles were stopped and checked.
Police from Suffolk, Essex and Cambridgeshire took part and a total of 41 officers supported representatives from partner agencies, including the Vehicle and Operator Services Agency (VOSA), the UK Border Agency and HM Revenue and Customs.
ANPR technology was used by police officers to stop suspicious vehicles on the A143, A1017 and A1307 and by mobile patrols around the town, and
escort them to the specially cordoned off central site
Police officers and partner agencies then carried out thorough checks on both the vehicles and theiroccupants. The British Red Cross also assisted on site.
Four vehicles taken to the site were seized for no insurance. Police officers issued 33 Fixed Penalty Notices for offences including no
insurance, driving with illegal tyres, faulty lights and illegal number plates. Twenty-nine vehicle faults were identified.
Two arrests were made – an 18-year-old man from Haverhill was given a caution for possession of ketamine and a 23-year-old man from Peterborough was detained under the Immigration Act and has been passed to immigration officers.
PC Graham Clark of Suffolk Police who ran the operation said, "By working together with Cambridgeshire and Essex Police we were able to
put patrols on every major route into and out of Haverhill. The ANPR system allowed us to identify, stop and process a number of vehicles for a wide range of offences along with our partners at the checking site.
"Criminals who use the roads are often committing a number of crimes, including using untaxed, uninsured and unroadworthy vehicles. If we can take away their access to these vehicles we can limit their opportunityto commit further crime, whilst also making Haverhill's roads safer
for all road users.
"Four cars were seized because they were uninsured. Being hit by an uninsured driver causes a lot of stress, inconvenience, and expense. Statistics have also proven that uninsured drivers are much more likely to be involved in a collision, and so by removing uninsured vehicles from the road we are taking further steps to reduce casualties."
Sergeant Rebecca Williams of Cambridgeshire Police said: "This operation was a great opportunity to do some cross-border work. We know
criminals move between our counties so it makes sense that we work together to tackle crime."

Comment on this story
[board listing] [login] [register]
You must be logged in to post messages. (login now)