Make A Date To Find Love
Friday, 13th February 2004.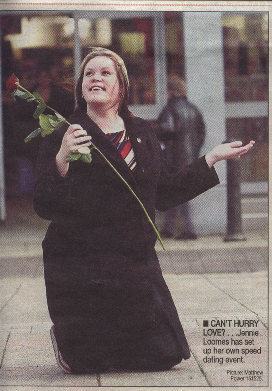 Anyone looking for love in a hurry can meet 20 possible partners in an hour at a new speed dating event later this month.
Haverhill barmaid Jennie Loomes, 20, says it was her own search for a man that gave her the idea of setting up the first speed dating event in her home town.
Jennie, who is six feet tall in bare feet, says both her height and the fact she has been so busy working behind bars of local pubs, has made it hard for her to find a partner.
"I was going to go speed dating with my friend, but the nearest one was Cambridge and you had to be 20. She was only 19 and I wasn't going on my own, so I decided to start one in Haverhill. I think there is a huge market for it out there. There will be 20 men and 20 women and each gets a three-minute date. They both fill in a form to say whether they are interested or not and I will contact them to see if they want to meet up. If it is successful I would like to start an introduction agency and have monthly events like racing, theatre trips or dinner dances," Jenny said.
Her first event is at Haverhill Golf Club on Friday, February 20th with a 7-9pm session for 18-30 year olds and a 9-11pm session for 31-45 year olds.
Places must be booked and anyone interested should ring 07900 244820.

Comment on this story
[board listing] [login] [register]
You must be logged in to post messages. (login now)