Market move saga may end in public inquiry
Wednesday, 28th October 2009.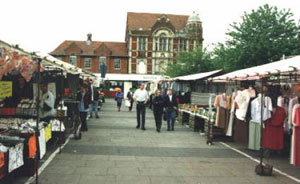 People campaigning to retain vehicle access to Haverhill High Street for the disabled on Fridays may have to force a public inquiry.
Haverhill Area Working Party last week recommended St Edmundsbury Council should move the Friday market from the square into the high street, in line with the Saturday one.
A previous proposal along aimilar lines ran into objections from disabled blue badge holders and some shops about parking and access, and was referred back for more consultation.
But the working party has now decided to push ahead with the idea.
Protesters will now have to raise their objections against the new traffic regulations which will be required and, if they cannot be solved, the issue will have to go to a public inquiry.
The market traders are wholeheartedly behind the move, members of
Haverhill Town Council
heard last night (Tuesday) in a report from the working party.
Cllr Anne Gower told members the main objectors were the blue badge holders, who said it was bad enough to be denied access on Saturdays, without adding Fridays as well.
But Cllr Phillip French, himself a blue badge holder, said he could not see a problem with it.
"We can get round it on Saturdays and it works okay for me, so I can't see a problem with it on Fridays," he said.
Cllr Margaret Marks pointed out the shopmobility scheme was available, by appointment on Saturdays.
"But there still seem to be an awful lot of disabled people going to the market on a Saturday," she said.
Cllr Gower explained that, because of the steepness of thre slopes, it was difficult for wheelchair users to get up to the street from Jubilee Walk car park, or back up to the car park from the street if they used the Quakers Lane car park.

Comment on this story
[board listing] [login] [register]
You must be logged in to post messages. (login now)