Mary chosen as lady golfer of the year
Tuesday, 20th March 2012.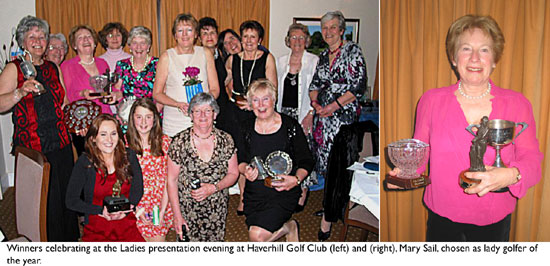 The Ladies Presentation Evening at Haverhill Golf Club was held on Thursday, March 15, to celebrate the success of the ladies section during 2011/12 and the event was very well supported.
The lady captain for 2011, Marian Mercer, gave the prize presentation assisted by the lady captain for 2012, Doreen Darbey.
At the end of the evening the winner of Lady Golfer of the Year was announced, which was based on the best ten results throughout the year, and this was awarded to Mary Sail. Details of all the prize winners can be found on the club's website www.club-noticeboard.co.uk/haverhill
The Junior Medal was played on Saturday, March 17, and the runaway winner was Daniel Bentley. He shot an amazing 75-16-59 and as a result has cut his handicap by four shots to 12.
Daniel has been in form recently, having received coaching sessions with Haverhill's assistant pProfessional, Harry Mills. In second place was Nicole Pike on countback with 98-29-69, reducing her handicap to 27 and in third place was Liam Merritt with 75-6-69.
Haverhill Juniors boys played against the Suffolk County girls second team on Sunday, March 18 at home, which, after a very tight finish, the boys won 3-1.
Liam Merritt (junior captain) won his match 5&4, Lewis Whiting & James Higham won their match 7&5, but unfortunately Daniel Bentley & Louis Martin lost their match 7&5.
However James Iron and Mitchell Davis were all square coming up the 18th hole, when they finally overcame the opposition with their last putt to win their match and the competition overall.
The father and daughter partnership of Chris and Alice Iron were the winners of the Winter Mixed Foursomes.
To reach the final they won their quarter-final match against Jane Herrington & Richard Peck. They were then drawn against Marian and Peter Mercer in the semi-finals.
They went on to meet the partnership of Denise and Jim Walker in the final, where they won 8&7. Chris Iron commented: "Alice was key to our success", as she continued to play well following on from her recent form shown in the Captains' Special Event.
The Bob Hutchinson Cup (Midweek Medal Final) was played on Wednesday, March 14, with the field comprising the winners from the 2011/12 season's monthly midweek medals.
Haverhill's incoming vice-captain, Gordon Price, was the overall winner out of the 20 finalists who took part. The results were: 1 Gordon Price 79-11-68; 2 Chris Vince 73-3-70 (lowest gross); 3 Chris Mellings 89-18-71.

Comment on this story
[board listing] [login] [register]
You must be logged in to post messages. (login now)