Master bat Tom strikes deal after tournament
By Rob Miles, Cricket Writer on Thursday, 13th September 2001.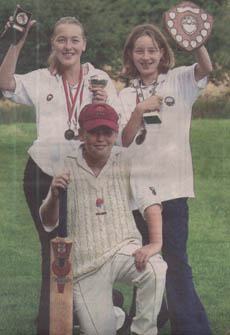 PROMISING young cricketer Tom Westley has won a two-year contract with a bat manufacturer.
Tom, aged 12, scooped the deal with East Sussex-based Gray-Nicolls after playing at an inter-regional tournament in Taunton.
"Because he was Midlands player of the tournament he won a contract with Gray-Nicolls," said proud father Adrian Westley.
Now, the aim for the youngster is to keep his place in the Midlands XI and impress at next year's contest — a trial for the England under-15 team. Two other Cambridgeshire players —Paul Saunders and Ben Howgego — were also selected to play for the region.
All-rounder Tom, who plays club cricket for Weston Colville under-13s, was picked for trials with the Midlands on the back of his county form.
This summer he scored 422 runs, averaging 46.88 for the county's under-13s.
And he also shone with the ball, taking 16 wickets in 71 overs at 12.06 runs per wicket.
Ian Reid, coach and manager of Cambs under-13s, has been coaching him for three years —Saunders and Howgego were also coached by Reid.
Reid said: "The three of them went for Midlands trials and got selected for Taunton."
He said they were outstanding cricketers, and praised Tom Westley's attitude. "He's got the ability and he's also got the right mental approach to the game," said Reid.
"He's certainly one of the most promising cricketers we've had in Cambridgeshire — he's one of those players who you don't have to tell, he's already thought of it.
"If ever you saw a cricketer who you thought had a chance of making it, you would have said Tom was one of them."
And sporting prowess is not confined to Tom in the Westley family. His sisters, Chloe and Laura, have been making names for themselves.
Chloe, 10, has represented the Midlands. She swims the breaststroke, front crawl and individual medley.
Older sister Laura, 14, has also swum for the region, and both compete at Haverhill tomorrow. Adrian Westley said:
"I think they will be swimming in every event they can.
CAPTION: Top sports … Tom Westley with Laura and Chloe.

Comment on this story
[board listing] [login] [register]
You must be logged in to post messages. (login now)