Mayor helps children launch recycling centre
Friday, 4th December 2009.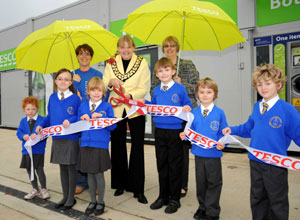 Youngsters from a Haverhill school were joined by the town mayor, Cllr Elaine McManus, to help launch a revolutionary new recycling centre at the Tesco superstore in the town.
Cllr McManus teamed up with the school children to cut a ribbon and officially launch the new facility in the car park at the Tesco store.
Eight-year-old Steven Shrimpton won £500 for his school and £100 for himself after creating the winning entry in a competition to promote the launch of the new recycling facility. Local schools across Haverhill were asked to create a snappy slogan or poem about the benefits of recycling and caring for the environment.
Steven, along with his classmates, was invited to the event by store manager Adrian Jones to collect the cheque for the donation and to cut the ribbon to declare the recycling centre open.
The lean green recycling machine, which costs £150,000, separates waste, including aluminium and steel cans, plastic bottles and glass bottles and jars.
The automated recycling centre, is one of many to be installed in the UK, and makes it quicker easier and more convenient to recycle and is a key part of the ongoing commitment by Tesco to the local community and to the environment.
The new 'one stop' recycling centre compacts and crushes material, which also saves on carbon emissions in collecting waste by reducing the number of journeys needed to empty them.
The recycling centre has special scanners and sensors to detect items, which have to be deposited one item at a time.
Tesco, who pioneered the system in the UK, are investing millions in a nationwide green campaign.
Tesco head of recycling and waste Sion Stanfield said: "Recycling is a key issue for our customers and as a responsible retailer we are committed to helping our shoppers adopt green habits.
"They have asked us to make recycling easier, more fun and more convenient and this is what the new automated machines are designed to do for the whole community. Glass is smashed, plastic bottles and aluminium cans and tins are shredded and granulated to reduce them to a fraction of their original size. This is recycling made easy."
And to encourage people to recycle more aluminium cans, Tesco is offering clubcard holders one clubcard point for every two aluminium cans recycled.
* Our picture shows Francesca Rouche, five, Casey Gray, eight, Ellie Goldsmith, seven, Steven Shrimpton, eight, Dylan Morgan-Owen, seven and Stefan Rouche, seven, with Tesco community chmpion Claire Bowden, Haverhill town mayor Cllr Elaine Mc Manus, and St Felix primary school head teacher Wendy Lashmar.

Comment on this story
[board listing] [login] [register]
You must be logged in to post messages. (login now)