Mayor in Winter Wonderland joins a lot of Happy Faces
Monday, 24th December 2012.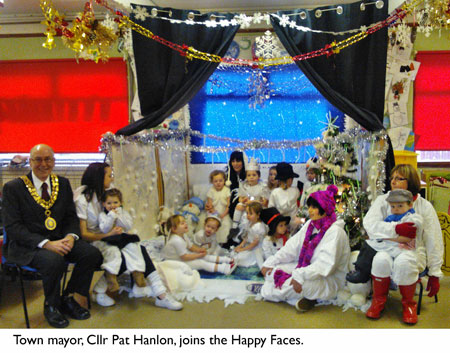 Haverhill's town mayor, Cllr Pat Hanlon, joined parents, carers, committee members and staff for the 'Winter Wonderland' Christmas Concert by the children of Happy Faces Pre-School.
A repertoire including Jingle Bells and We Wish You A Merry Christmas was enthusiastically sung by the children, who had dressed up as snowmen, angels and princesses for the end of term celebration.
After the performance Cllr Hanlon presented gifts to the children and staff.
Elaine Hatfield of Happy Faces said: "The children have been practising their songs eagerly for some weeks. Parents and carers dressed the children in magnificent costumes on the Winter Wonderland theme.
"We are proud to show off the talents of these young children – everybody enjoyed the songs."
Happy faces ommittee chair Cllr Maureen Byrne said: "Happy Faces demonstrates how early years education helps our young children to develop confidence and to begin their education journey through fun and play.
"The children clearly enjoyed singing for the concert and were exceptionally well outfitted for the Winter Wonderland."

Comment on this story
[board listing] [login] [register]
You must be logged in to post messages. (login now)