Mayor plants time capsule to mark anniversary
Tuesday, 27th April 2010.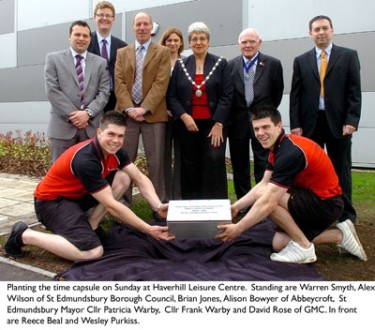 The Mayor of St Edmundsbury was in Haverhill on Sunday to plant a time capsule at the town's
Leisure Centre
.
Abbeycroft Leisure marked its 5th birthday by planting the time capsule, to be opened again in 20 years.
For five years, Abbeycroft Leisure has been helping to keep the borough fit and healthy through its operation of Haverhill and Bury
Leisure Centre
s and its sport outreach programme Abbeycroft On The Move.
The time capsule, made by Haverhill firm General Metal Construction, contains photos of events, activities and staff at Haverhill
Leisure Centre
.
It was planted by the Mayor of St Edmundsbury, Cllr Patricia Warby, and Abbeycroft Leisure's chairman Brian Jones at 12noon during an open day at the centre which raised £400 for St Nicholas Hospice Care.
It also contains messages from staff describing what they think the centre and exercise in general will look like in 20 years' time.
The five years has seen both challenges and triumphs. In 2004, as St Edmundsbury Borough Council was about to hand over the operation of the Bury
Leisure Centre
to Abbeycroft Leisure, the newly-formed leisure trust, a fire destroyed the roof of the building.
It was 18 months before the building could be opened and the council took the opportunity to bring forward a capital investment programme of £7million which included some new additions including a 25m short course pool, a competition swimming pool, a moveable floor in the pool area, a 100 station gym and a new communal changing village.
Last year Abbeycroft unveiled the newly refurbished Haverhill
Leisure Centre
, following a £5.2million capital investment programme by St Edmundsbury Borough Council. The centre, which had to close for a year while this work was carried out, gave Abbeycroft the opportunity to invest £250,000 to erect a pod to continue its gym and exercise class service to the local community.
It also relocated its popular Keep Active and Tuesday Club activities to other venues in the town. Despite the move, three quarters of its customers continued to use the facilities in the pod with new people joining.
The newly-refurbished centre was unveiled last year and has a new fitness centre with state-of-the-art exercise machines, a health suite, dedicated combat training and martial arts room, an area for table tennis, a new spinning studio, a sports hall with a Beijing Olympics style floor, and Kid City, a brand new children's indoor play area. The swimming pool also has poolside spectator seating.
At Bury
Leisure Centre
Abbeycroft has raised memberships from 400 prior to the fire to 1,900 and at Haverhill membership has increased from 1,200 prior to the closure to 1,600. The centres now receive over half a million visits a year and the company employs 197 people. This year, with both centres now fully operational, Abbeycroft had a turnover of £3.3million.
In the last five years Abbeycroft has also launched the prestigious St Edmundsbury Sports Awards to recognise local sport talent, been chosen to host the official training camp for the Rwandan Olympic Team in 2012 at the West Suffolk Athletics Arena and held the Sport Relief Mile for the first time.
In addition to managing the
Leisure Centre
s, the company also runs Abbeycroft on the Move, the sport outreach programme in the borough, and in the last year alone 4,150 people have taken part in these activities.
Abbeycroft has also worked with partners to initiate the Community Sports Network, a project to increase participation in sport and physical activity and to build an infrastructure that allows sporting opportunities to be developed and delivered in a positive environment. It assisted in the development of an action plan that has delivered over 20 different projects to the community resulting in 4,979 participants.
Chief executive Warren Smyth said: "We are incredibly proud of the achievements we have made in the last five years. We have seen many challenges but also wonderful developments and innovations which have helped the community take part in more exercise and more sport.
"The
Leisure Centre
s are not only a place to go to keep fit now. They are very much a part of people's lives. For many they are a social place to meet friends and try out new activities.
"Exercise is continuing to become a bigger part of people's lives, especially with large national campaigns such as Change for Life gaining a higher profile. These campaigns will encourage people to integrate exercise into their daily routines and I believe that more people will live a healthier lifestyle as a result.
"As a facilitator for exercise, we will continue to encourage the local community to participate in exercise that they can enjoy, by continually improving our range of activities and services, which we hope, will have a lasting effect on people's lives and that by 2030, when we open our time capsule, we will see a fitter, healthier county and nation."
Cllr Lynsey Alexander, St Edmundsbury's portfolio holder for culture and sport said: "The borough council is committed to increasing participation in sport and physical activity. To achieve this, it has invested in ensuring that its sporting infrastructure is of the highest quality.
"Abbeycroft Leisure has grasped this opportunity and put on a range of exciting opportunities for the whole community to participate and enjoy. I wish Abbeycroft a well-deserved happy birthday."

Comment on this story
[board listing] [login] [register]
You must be logged in to post messages. (login now)