Mayor sees children 'graduate' from pre-school
Wednesday, 3rd July 2013.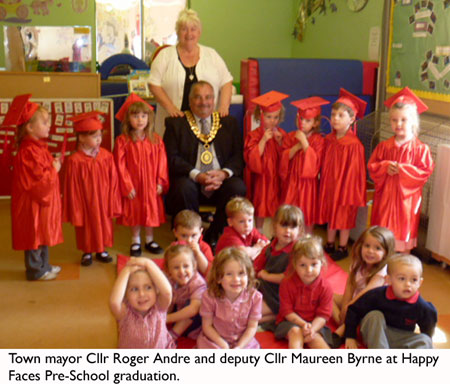 Haverhill's town mayor Cllr Roger André and deputy mayor Cllr Maureen Byrne were entertained by children 'graduating' recently from Happy Faces Pre-School.
An emotional rendering of You Are My Best Friend, (based on the favourite You Are My Sunshine), was enthusiastically applauded by parents and carers attending the leaving ceremony.
In their gowns and mortar boards the youngsters were presented with a ribboned medallion, a framed photo of them in their attire and a scroll as momentoes of their time spent at Happy Faces.
Manager Elaine Hatfield and deputy manager, Sharon Albon proudly paraded their latest cohort – ready for transition to primary schools in September.
Cllr André said: "Early years education provides a real boost to learning in young people. Happy Faces is a great example of early years learning which builds independence, co-operative living and enthusiasm for education. Our community will benefit from the investment in learning which this setting represents."
Elaine said: "The children have been practising eagerly for some weeks and their performance thrilled us all.
"As the children move on into their primary schools they will be well equipped to continue their journey into learning with a flying start. We are so proud of them all."
Cllr Byrne said: "Happy Faces demonstrates how early years education helps our young children to develop confidence and to begin their education journey through fun and play.
"The children are a great credit to their parents and oarers. Pre-school education is key to encouraging keen engagement in learning and offers the best gift we can give to our children."

Comment on this story
[board listing] [login] [register]
You must be logged in to post messages. (login now)