Medals galore as golfers defy the weather
Tuesday, 13th March 2012.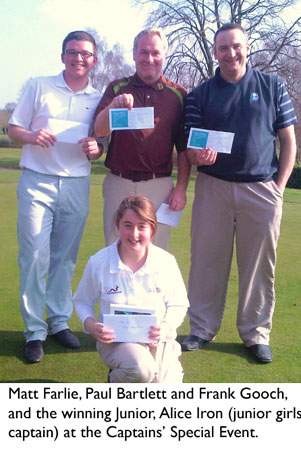 The Men's Midweek medal was played at Haverhill Golf Club on Wednesday, February 29, and the scores returned across the divisions had to be decided on countback.
The overall winner was Graham Hepworth with a nett 68, trimming his handicap by a shot to 22.
The full results were: Division One, 1 Chris Vince 75-2-73; 2 Chris Iron 80-9i-71; 3 Eamonn Bareham 79-6-73.
Division Two, 1 Jonathan Cliston 84-16-68; 2 Steve Piotrowski 84-15-69; 3 Jonathan Wiseman 84-15-69.
Division Three, 1 Graham Hepworth 91-23-68; 2 Patrick Bowes 95-24-71; 3 Len Adams 94-24i-72.
On Saturday, March 3, the Ladies LGU Coronation Foursomes was played and the winners with 31pts were Sally Price and Karen Wilby, from second-placed Doreen Darbey and Denise Walker with 30pts and in third place were Mary Sail and Jackie Condon with 29pts. The winners go on to play in the regional final at Frinton on Sea on July 26.
Despite the wintry weather conditions the Men's Medal went ahead on Sunday, March 4. The overall winner with a nett 68 was Mich Calmet and as a result his handicap has been cut by one shot to 18.
The full results were: Division One, 1 Steve Nichols 83-12-71; 2 Terry Lyons 81-10-71; 3 Lewis Whiting 77-6-71.
Division Two, 1 Mich Calmet 87-19-68; 2 Alastair Cocks 85-13-72; 3 Trevor Broomfield 86-13-73.
Division Three, 1 Chris Beirns 99-28-71; 2 Peter Amies 95-23-72; 3 Spenser Lee 96-21-75.
The Midweek Medal was played on Wednesday, March 7, and a field of just 30 competitors braved the heavy rain. The overall winner, which was decided on countback was Gordon Price, who has been cut one shot to 11.
The full results were: Division One, 1 Gordon Price 79-12-67; 2 Andy Fish 73-5-68; 3 Kim Ward 85-12-73.
Division Two, 1 Pat McGarr 81-14-67; 2 Stuart King 83-13-70; 3 John Stokes 86-15-71.
Division Three, 1 Graham Hepworth 97-22-75; 2 Paul Mower 105-27-78; 3 Patrick Bowes 103-24-79.
The Ladies March Medal was also played on Wednesday, March 7, following the men's competition. The winner with a nett 77 was Pat Wellstead, and as a result she has had her handicap reduced by one shot to 33. In second place with a nett 78 was Jackie Condon and in third place Sue Carr with a nett 85.
On March 10, the Ladies Rosebowl Final was played, incorporating the Saturday March Medal. Fourteen finalists took part, together with other members from the ladies section for the medal.
The clear winner was Mary Sail with an excellent round of 88-17-71, from second-placed Lyn Fish with 99-21-78, and in third place Marian Mercer with 104-23-81.
Immediate past lady captain Marian Mercer and club captain Keith Brown hosted the Captains' Special Event on Sunday, March 11, which was a competition open to all sections of Haverhill Golf Club.
There was a good turnout of 90 players taking part. The format was individual stableford, played off 7/8ths handicap and the competition was followed by a carvery lunch at the golf club's Parklands Restaurant.
Keith Brown and Marian Mercer gave the prize presentation, where it was also announced that over £1,000 had been raised for Keith's chosen Charity, Alzheimers.
An official 'cheque presentation' to the charity will be made in the near future. At the prize-giving, Matt Farlie was the overall winner with an impressive score of 42pts, in second place was Paul Bartlett with 38pts on countback from third-placed Frank Gooch, also with 38pts.
The best score from the junior section was the junior girls captain Alice Iron with a fantastic 40pts, despite playing off a reduced handicap of 24.
Winning nearest the pin for the men was Richard Peck, and for the ladies Alice Iron. Winning longest drive for ladies was new Haverhill member, Gillian Barke and for men Steve Brooks (with a three wood!)
The seniors interclub match season has now got underway with the first event being played at home against Newton Green on Thursday, March 8, where they won by 5-3. Their next match was the following day, also at home against Colne Valley, where they drew 4-4.

Comment on this story
[board listing] [login] [register]
You must be logged in to post messages. (login now)