Menta launches Haverhill breakfast meetings
Monday, 26th October 2009.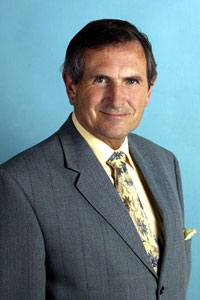 Suffolk enterprise agency Menta has announced it will be extending its monthly breakfast networking meetings to Haverhill, in association with Haverhill Chamber of Commerce.
From now on the first Thursday in the month is Menta Breakfast day in Haverhill.
The format is very relaxed. No membership is required, you don't have to come every month, and you just pay for the breakfasts you attend, although you do need to book in advance.
There is a speaker, there will be plenty of opportunity to network with the others (and you get a list of all attendees) You will also have an excellent breakfast.
On top of that, there will be a business card draw to win a bottle of champagne.
The first one is on Thursday, November 5 at Frankie and Benny's in Haverhill from 7.45am to 9.15am. There is a special launch price of £10+vat.
The speaker for this opening breakfast is Keith Benwell (pictured) on Secrets Of Leadership (and how you can lead customers to your business).
Why is it that clients and staff will do extraordinary things for the best leaders - and how do we become one of those leaders?
Over many years in Dale Carnegie Training, and as a mentor for the Cambridge University Entrepreneur centre, Keith has made a study of the best leaders in various fields, and what makes them good at leading, whether it is in industry, sport or the military.
He will be providing a formula to follow based on this experience, which should be invaluable to all - from the smallest business to the largest.
You can book on line at www.menta.org.uk

Comment on this story
[board listing] [login] [register]
You must be logged in to post messages. (login now)