Michael leads the way in half-term
Friday, 5th March 2010.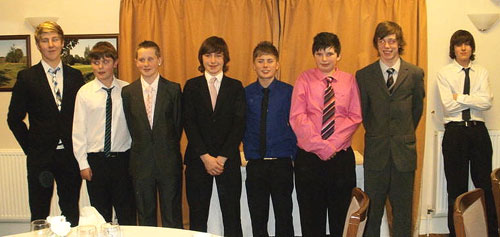 School half-term saw plenty of events for the juniors at Haverhill Golf Club.
On February 16 an additional medal-qualifying competition was played, with Michael Perrett winning with a very impressive 83-18-65.
In second place was Lewis Whiting with a score of 89-21-68 and in third place Charlie Sigler with 87-18-69.
A medal event was also scheduled on February 18, but this was cancelled due to bad weather.
The Junior AGM and Presentation Evening was held on Friday, February 19. The dayís event was comprised of a ten-hole competition, followed by a quiz then evening meal and presentation.
Winning golfer of the Yyear was junior captain, Jack Warwick, and club golfer of the year went to Lewis Whiting for his achievements.
Many of the juniors have made drastic improvements to their handicaps under the guidance of Ollie Rush and Paul Wilby at the junior academy sessions held each weekend. All their work has paid dividends as Haverhill now have a very strong and competitive junior section.
The February Junior Medal was played on Saturday, February 20, and again there were some fantastic results. Michael Perrett stole the glory once more with a score of 82-17-65.
In secnd place was Ed Baker with 78-11-67 and in third place Liam Merritt 85-18-67. Two other names to mention are Stephen Boyles, who was playing off the red tees, who scored 90-33-57 and new Haverhill junior, George Goldhawk, playing off the yellow tees, scored 95-36-59.
Stephen and George have now had their handicaps reduced sufficiently and are eligible to play off the white tees in future competitions, so congratulations to them both.
The menís IFF Challenge was played on February 24, with an excellent result for Haverhill junior Chris Vince who scored a fabulous nett 66 and he has had his handicap reduced to five.
The full results are as follows: Division One, 1 place Chris Vince 72-6-66; 2 Michael Warren 79-8-71; 3 Dennis Harkness 81-7-74.
Division Two, 1 Andy Softley 82-13-69 on countback, 2 Lyndon Brown 86-17-69; 3 Frank Smith 90-19-71.
Division Three, 1 Barry Shuter 96-22-74, 2 Keith McCallum 102-28-74, 3 Ken Johnson 106-26-80.
The Ladies February Stableford was played on February 24 and the results were as follows: 1 Jackie Condon with 34pts, 2 Catie Heathfield with 33pts and in 3 Mary Sail with 30pts.
Immediate past lady captain Doreen Darbey scored an ace on Monday, March 1. She was playing in a mixed match at Haverhill when her seven wood shot on the eighth hole, a 110-yard par three, found the target.
This is Doreenís first hole in one and there were plenty of club members in the clubhouse that day to join in the celebration.
Still on a high after her hole-in-one, Doreen went on to win the Wednesday Medal, which was played on March 3, with a score of 99-28-71. In second on countback was Gerry Wheatley with a score of 103-28-75 and in third was Jackie Condon with 97-22-75.
* Our picture shows Haverhill juniors (left to right) Jack Warwick (junior captain), Stephen Boyles, Lewis Whiting, Michael Perritt, Ellis Brown, Liam Merritt, Chris Vince, Richard Boyles.

Comment on this story
[board listing] [login] [register]
You must be logged in to post messages. (login now)