Mick clinches medal final by one shot
Tuesday, 19th March 2013.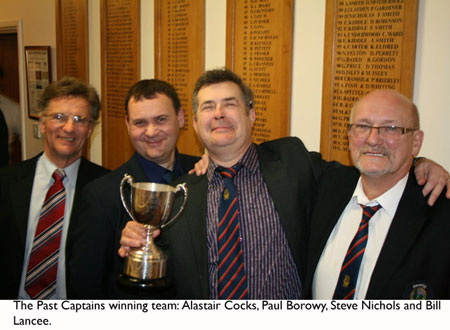 The Men's Midweek Medal final (the Bob Hutchinson Cup) was contested on Wednesday, March 13 at Haverhill Golf Club.
The field comprised all the midweek medal division winners throughout the 2012/2013 season. The field of 20 battled it out in freezing conditions and the winner had to be decided on countback.
Mick Dalena clinched the trophy by one shot on the back nine with a score of 86-15-71, the runner-up was Howard Ward with 86-16-71 and in third place Kieron Bailey with 94-22-72. Lewis Whiting had the lowest gross score of 74.
The Ladies Presentation Evening was held on Thursday, March 14, to celebrate the success of the Ladies Section during 2012/13 and the event was very well supported.
The lady captain for 2012, Doreen Darbey, gave the prize presentation, assisted by the lady captain for 2013, Sheila Price. At the end of the evening the winner of the Lady Golfer of the Year was announced, which was based on the best ten results throughout the year, and this was awarded to Jackie Condon.
Details of all the prize winners can be found on the club's website www.club-noticeboard.co.uk/haverhill
The Past Captains of Haverhill Golf Club were invited to contest the Past Captains' Trophy on Saturday, March 16. Each captain invited three guests to make up teams of four and the format was stableford, played off 7/8ths handicap with three from four scores to count.
In all, 17 teams took part, and despite the dreadful weather conditions the competition was very close and was decided on countback. The winners with a score of 111pts were Steve Nichols (captain 2000), Bill Lancee, Paul Borowy and Alastair Cocks, just edging out the defending champions, Dennis Harkness (captain 2009), Steve Martin, Kim Ward and Ivan Drury with 111pts. In third place were Malcolm Klingle (captain 1993), Gordon Price and Del Thomas and Andy Fish with 109pts.

Comment on this story
[board listing] [login] [register]
You must be logged in to post messages. (login now)