Missing Dog 'Charlie' Found Injured
Friday, 27th February 2004.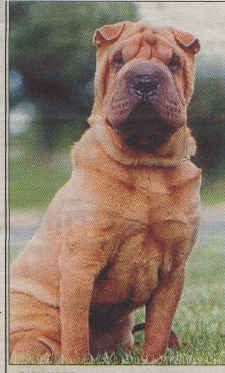 A dog missing from home for more than a week has been found badly injured, after its owner was inundated with offers of help.
Charlie, a rare Chinese Shar Pei dog, ran off the day Mikala Young of Hazel Close Haverhill, took him home from the Jaybeth Animal Sanctuary at Barnardiston. Her son Keiran, aged two, was heart-broken, and the family offered a reward to help find him.
On Saturday, Mrs Young went to a farm near Haverhill Golf Club, where Charlie had been found in a barn by the farmer. Charlie had to have more than 30 stitches when he was taken to the vet, who said he had been mauled by a larger animal.
Charlie is currently recovering at a farm at Helions Bumpstead until he is well enough to go back home.
"Keiran is only two, he just wants to hug and kiss Charlie and he does not understand that the dog is just not up to it yet," said Ms Young.
"We just want him home as soon as we can and I am so pleased to get him back. I do not even know the name of the farmer who found him and I would like him to get in touch so that I can thank him personally. I would also like to thank everyone who offered to help."

Comment on this story
[board listing] [login] [register]
You must be logged in to post messages. (login now)