More town pastors commissioned to work on Friday nights
Tuesday, 3rd July 2012.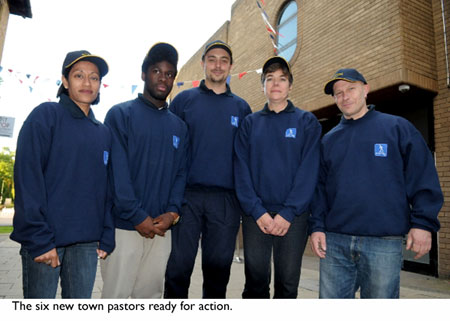 Six new Haverhill town pastors were commissioned last Friday at a special service attended by the town mayor and the Deputy Lieutenant of Suffolk at the Old Independent Church.
The new recruits will join the existing town pastors who patrol the streets of Haverhill on Friday nights to provide care and support to people in the town centre.
They work closely with the police and other authorities, to help to make the town safer in the evenings.
Town pastors are able to help calm potentially aggressive situations, as well as offering help to vulnerable people. They are also trained in basic first aid.
Jane Schulz, one of the newly commissioned town pastors, said after the service: "It's very satisfying to be able to offer support and care to people in Haverhill by helping them stay safe and enjoy their night out."
Deputy Lieutenant George Vestey said of the scheme, which involves people from all churches in the Haverhill area: "Town Pastors is a very impressive story about people of different Christian denominations coming together and going out into the community in a pro-active way."
Town mayor Cllr Pat Hanlon reflected on the up-coming first anniversary of the town pastors' inauguration by saying: "Town pastors came to the town council a year ago and the council agreed to make a contribution towards their fluorescent uniforms.
"The police say what a fantastic help the tTown pastors are when they go out into the town centre at night meeting people. The town council fully backs Haverhill town pastors."
The commissioning service was led by the Rev Karen Knight, chairman of Haverhill Town Pastors, who said: "It's really exciting that Town Pastors is continuing to grow after a year and we have new members on board. It's good that we're getting known around the town for our chocolate frogs!"

Comment on this story
[board listing] [login] [register]
You must be logged in to post messages. (login now)