Morrison guest speaker at Castle Manor awards
Wednesday, 10th July 2013.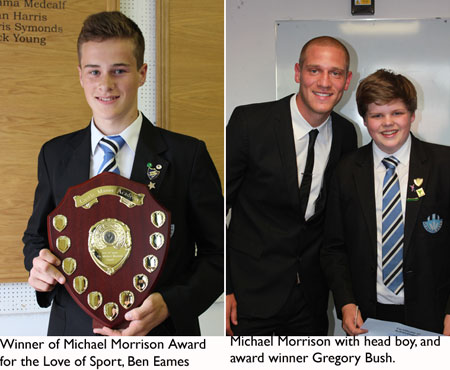 Students from Castle Manor Academy celebrated the past years success at their key stage three and four prizegiving ceremony this week.
The event, the first for this age group, was an opportunity for students to celebrate their success, both for their academic success and the effort they each put into their time at Castle Manor.
Guest speaker at the event was ex-student, Charlton Athletic defender Michael Morrison. He spoke fondly of his memories of being a student and of his recent visit.
He said: "I dreamt of being a professional footballer, like many other boys all over the country. I am proof that you can achieve your dreams, if you make the most of every opportunity."
Michael went on to speak about the hard work he put in to achieve his dream, but returned to his starting point, saying: "I gave myself the best opportunities I could by completing my education, achieving good grades at GCSE and through the love, support and encouragement from my family, friends, teachers and coaches."
Michael finished his speech with a quote from Muhammad Ali, which reflects Castle Manor's belief in students: 'It's lack of belief that makes people afraid of meeting challenges, and I believed in myself.'
The event began with a canapé reception, prepared entirely by students who have been taking part in a special project, which equipped them to cater for the event.
They have had training sessions at Hotel Du Vin in Cambridge and last week received a master class from the head chef at Jamie's Italian in Cambridge.
This set the tone for a wonderful night of celebration, which included the prizegiving and musical performances from some of the academy's brightest stars.
Angela Feria, parent and director of the Castle Partnership Academy Trust, was full of praise for the event.
She said: "It's humbling to see how proud the students are when they climb the steps to receive their awards. The words that teachers shared about the effort our young people put in were very encouraging."
Mrs Feria, who has two children at Castle Manor Academy, reflected on the choice of speaker, saying: "It's wonderful for ex-students to be giving awards and for us to reflect on how they've used the opportunities at Castle Manor Academy to grow into successful mature adults."
Amongst the prizes awarded were a range of newly instigated trophies celebrating students 'love of' their work, in addition to certificates for those students making exceptional effort in their studies.
Students receiving the special awards were:
The Michael Morrison Award for the Love of Sport awarded to Ben Eames (Year 10);
The Burge Family Award for the Love of Reading awarded to Aelun Crombie (Year 7);
Award for the Love of Creativity awarded to Jasmine Barnes (Year 9);
Award for the Love of the Natural World awarded to Shaun Cresswell (Year 9);
Award for the Love of Numbers awarded to Ellen Dawkins (Year 7);
The Roger André Award for the Love of the Community awarded to Ross Bramhald (Year 10);
The Helen Yapp Award for the Love of Others awarded to Lucy Porter (Year 8);
Award for the Love of Languages awarded to Kacper Waligora (Year 9).

Comment on this story
[board listing] [login] [register]
You must be logged in to post messages. (login now)