Mouchak Wows Haverhill Business Group
By Charmaine Symonds on Monday, 26th February 2007.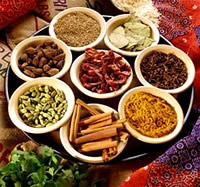 The Mouchak Indian Restaurant provided the perfect backdrop for a recent Haverhill Chamber of Commerce meeting on 13th February...
Despite being tucked away just outside of town and across the county border at New England, the Mouchak has already become a favourite hangout for the in-crowd, the first-to-be-there set and for those who simply enjoy wining and dining.
Although the restaurant's position and rather soulless exterior conspire to create an unpromising first impression, they actually conceal a real gem. Its current owners have wrought a certain kind of magic transforming the interior into a bright, welcoming space which is contemporary, cool and very, very now. This welcome is further reinforced by staff who offer a deft and gracious service as well as informed advice on menu choice.
From reports, the eatery has also worked hard to sustain the opening successes of last year and acquire a consistent reputation for culinary excellence. And if the sumptuous Indian buffet we were served is anything to go by, its reputation is well deserved. Full marks for beautifully presented dishes and fabulous food that speaks for itself. Even the samosas are light years away from any samosas you will have had before…
So if you enjoy good Indian food and a slick, lively atmosphere the Mouchak might just be your kind of place…
It was certainly a winning formula for Haverhill's Chamber of Commerce. The appearance of the Mouchak's lunchtime Indian buffet generated a perceptible buzz among the forty or so representatives from local business gathered for February's event.
Featured speaker was Selina Austen of The Design Office who delivered an engaging presentation on Brand Development. Packaged as 'Love Your Brand', clearly with St Valentine's Day in mind, Selina's presentation offered a number of key pieces of advice. Selina was also keen to point out that business success is all about building relationships, keeping promises and maintaining passion.
"How can you expect people to be passionate about your service," she asked, "if your own enthusiasm is lacking?"
Haverhill Town Centre Manager Nick Martin followed this presentation, speaking briefly about a series of free training sessions for independent businesses in market towns and villages available through the Action for Market Towns BASE initiative. Further information can be gained through Nick Martin. Telephone: 07766 351803 or email Nick at no.martin@tiscali.co.uk.
Gold PR

Comment on this story
[board listing] [login] [register]
You must be logged in to post messages. (login now)