MP's meeting draws controversial views about town
Friday, 4th February 2011.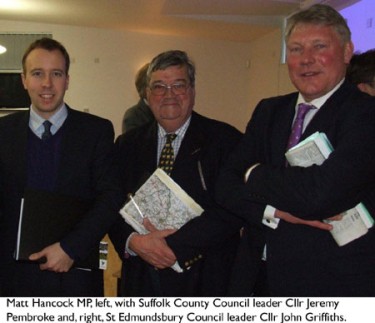 Both Queen's Square and the Gurteen complex ought to be demolished to make way for better shops in Haverhill, according to businessmen who spoke at a public meeting this afternoon.
Richard Herbert, chairman of business group Haverhill Enterprise, renewed his call for Queen's Square to be demolished.
Nic Rumsey of Carisbrooke developers urged that the Gurteens site be flattened - and was supported by Christopher Gurteen 'from a commercial point of view'.
Haverhill's MP Matt Hancock had pulled together numerous leaders and stakeholders in Haverhill's future to talk about how the town should progress.
The meeting was held at the New Croft football complex and saw the MP challenge the leaders of both Suffolk County Council and St Edmundsbury Borough Council about how they were going to achieve what people wanted.
Mr Hancock had invited two people to give short introductory talks before opening the meeting for discussion.
The chief executive of St Edmundsbury Geoff Rivers spoke about how the town had been improved in recent years, and revealed the next project being brought forward was a one-stop public services office.
The 'West Suffolk House for Haverhill' would be created at the former council offices in Lower Downs Slade, he said.
But Mr Herbert, speaking on behalf of the business community said councils could not rest on their laurels.
"No one is going to hear me say 'well done'," he said. "All that is in the past and we must look to the future."
He identified the need for quality employment opportunities in the town to be paramount, and agreed that it had to be achieved by the private sector.
But there were several little steps on the journey which he thought should be addressed.
First was fast completion of the north-west relief road. "The bypass gave us a noticeable boost and this would do the same," he said.
He told councillors they should start on the road now and not wait for developers' contributions, borrowing the money if need be.
Secondly the retail offer in the town was poor. He gave a long list of national high street chains and asked why they were not in a town of nearly 25,000 people.
"We have to create space for them, because the High Street is not big enough," he said. "Knock down Queen's Square and make space there."
Thirdly he wanted to see an early start on Haverhill Research Park, which he thoroughly supported.
Fourth was a decent transport link to the west. "Forget the railway," he said. "That is never going to happen. We should be looking at bus lanes, guided buses and road improvements."
The final point was about faster broadband, which will be arriving in the town in the summer.
Mr Hancock summarised the list as 'highways, hi-tech and high street'. He suggested the goal of a complete dual carriageway from Haverhill to the M11 should be the goal.
It was a big project for cash-strapped times, but work should be done on it now so that when cash was available it was ready to go.
But Esther Cornell of Access 1307 said this would mean the annihilation of part of Linton. She was supported by South Cambridgeshire district councillor John Batchelor who said the perception of Haverhill from outside was 'growth, growth, growth'.
"The traffic is all pushed into Cambridgeshire and there has been nothing from Suffolk towards the road. This has been a big failure," he said.
Haverhill solicitor Paul Cammiss said the problem was the way the road eastward had been downgraded by Essex.
"Unless Essex supports it there will always be a conflict," he said. "Suffolk has only a very minor part of the road."
Town clerk Gordon Mussett said most of the traffic on the A1307 was commuting out of Haverhill. It was necessary to create the employment here to get them to stay here and spend money here, then the road issue would partly go away.
Cllr Anne Gower said she thoght Haverhill was now at a 'tipping point' and they needed to cut across the tiers of local government to make progress.
On the issue of the High Street, Mr Hancock said he didn't think anyone would consider it the most attractive in the country, and it could do with improving.
Mr Gurteen said the high street was of great importance to him as his business was located there and there had been discussions for years about it.
"At the moment the high street is an absolute disgrace and it has gone on for far, far too long," he said. He was opposed to closing off the whole street from Swan Lane because his site had 58 car parking spaces which needed access.
But he could not understand why the traffic could not be policed, and had had a meeting with the police about it. "They say they have not got the manpower," he said. "It's ridiculous.
"We had a plan for it to be gated just past Chapmans, and for our traffic to leave through a gate in our wall via the town hall car park, and that was agreed a year ago."
Matt Riches of Suffolk County Council highways department said he understood the issues, but while there were objections it could still all be taken to a long-drawn-out and costly public inquiry and they were still in negotiations to try to prevent that.
Town centre manager Tina Hanks said the list of national retail chains Mr Herbert had cited needed certain configurations of space which Haverhill did not currently have.
She also believed the town was reaching a tipping point for attracting them, and it needed to tell retailers the customers were here but spending their money elsewhere.
Head of Samuel Ward Academy Howard Lay said he saw his pupils in shops in Bury and Cambridge because there was not the range they wanted in Haverhill.
Mr Rumsey, asked for his opinion as a commercial developer, said he thought the town would get on to these retailers' radar when it reached 25,000, which would be soon.
"You need to knock down Gurteens and make the space," he said. "If it was in the north of England that building would have been knocked down 40 years ago.
"At the moment, because there is not the space, you have an alternative high street developing around Cineworld and that will get bigger."
Mr Batchelor said people from Cambridgeshire villages used Cambridge for big shops and Saffron Walden for niche shops and would never think of Haverhill at all, except for Sainsbury's.
Ms Cornell said she used to ship in Haverhill 30 years ago and there was a better range of shops then. "You have a lot more than 22,000 catchment if you include the outlying area," she said, "but usage of Haverhill from the villages has decreased greatly over the years.
"They use the part around the cinema and the restaurants because it's well lit, but they don't want to use those little alleyways to the high street and it's very dark there."
Mr Hancock asked the chairman of Suffolk County Council, Cllr Jeremy Pembroke, for his views on what he had heard at the meeting.
Mr Pembroke said he had visited Haverhill a couple of weeks ago and been immensely impressed by everything he saw.
"Haverhill is blessed with two extremely good schools with outstanding head teachers, so educationally it has a lot going for it, and I think that is where it starts. I want to build on that.
"I am determined to see what we can do to push this very exciting agenda forward."
Mr Cammiss said he had lived in the town for 60 years and was impressed by what he heard at the meeting. "I love the town, I love the improvements that have been made and I love the sense of optimism I have felt here," he said.

Comment on this story
[board listing] [login] [register]
You must be logged in to post messages. (login now)