MP to address business ratepayers annual meeting
Thursday, 29th September 2011.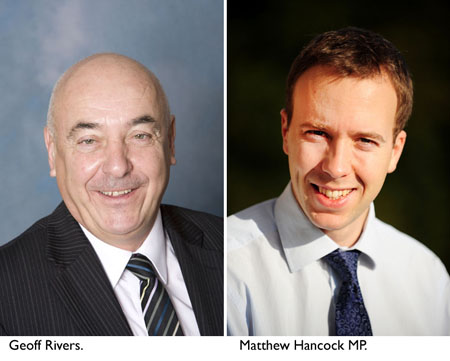 Matthew Hancock MP will speak at an annual joint Haverhill Chamber of Commerce and St Edmundsbury Borough Council event for businesses in the town on Friday, October 21.
Neville Reyner, chairman of the Greater Cambridge and Greater Peterborough Local Enterprise Partnership, will also speak about the LEP and outline how it will affect Haverhill, and Alex Till, chief executive of the Mid-Anglian Enterprise Agency (MENTA) will speak about enterprising opportunities in the town.
St Edmundsbury Borough Council leader, Cllr John Griffiths, will open the event and welcome business representatives with Geoff Rivers, the council's chief executive, reviewing the year and outlining the next 12 months, including a briefing on Vision 2031.
The 'Haverhill: Growing For The Future' event will take place between 2pm and 5pm at Genzyme and encompasses the council's traditional annual business ratepayers meeting.
Sarah Howard, chairman of Haverhill Chamber of Commerce, said: "This annual event is always well attended by small to large businesses from across the town as it gives owners a chance to raise issues directly with the council and hear their plans for the future.
"This year we have a particularly excellent line-up of speakers including senior representatives from our local LEP, MENTA and of course support from our local MP."
The meeting will give a chance for businesses to air some of their comments, concerns and thoughts about how the council is shaping the town.
Cllr Griffiths said: "St Edmundsbury is delighted to be working with the Haverhill Chamber again this year to host this important event.
"Every year sees an increase in the number of businesses attending and we are very grateful to Genzyme for hosting us.
"This really is an excellent opportunity for local businesses to make the most of their time by coming along to discuss current issues, find out and influence what's going on, and quiz the MP, the chamber and St Edmundsbury all in the one place."
Entry to the 'Haverhill: Growing For The Future' event is free but booking is essential to comply with security at the venue. To book email andrea.mayley@stedsbc.gov.uk or telephone 01284 757343 or telephone Sue Warren at the Haverhill Chamber of Commerce on 01440 705578. Refreshments will be provided at the event.

Comment on this story
[board listing] [login] [register]
You must be logged in to post messages. (login now)