MP to open enterprise agency's new training centre
Thursday, 15th July 2010.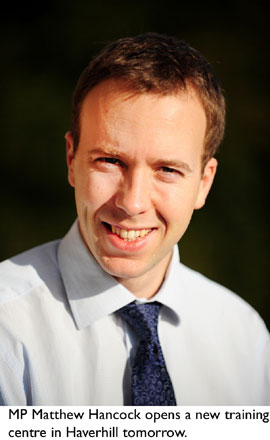 Matthew Hancock MP will be opening the new Menta training centre and serviced offices in Haverhill tomorrow.
The new training centre marks an investment of over £100,000 in the future of Haverhill, recognising the tremendous potential of the town.
Menta, the Suffolk Enterprise Agency, will be opening the newly-refurbished training centre and serviced offices in Hollands Road and the ceremony will be performed by newly-elected MP Matthew Hancock.
the investment is by the partners, who are St Edmundsbury Borough Council, The East of England Development Agency, Suffolk County Council and Menta.
It will provide two new, fully-equipped training rooms and break out areas, as well as meeting rooms and serviced offices. All are available to be used by local businesses, and pricing will be deliberately competitive.
John Riley, chief executive of Menta, said: "We have been working in Haverhill for many years, from our existing business centre, but it has been clear for a while that there is a need for an affordable and accessible training centre for local businesses, charities, voluntary groups and others to use.
"We have been delighted to work with St Edmundsbury Borough Council, who own the building, and the other funding partners to make this a reality."

Comment on this story
[board listing] [login] [register]
You must be logged in to post messages. (login now)