New Artwork For Jubilee Walk ...
Friday, 22nd September 2006.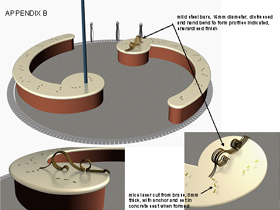 Travelling is set to become easier for passengers using Haverhill's bus station after a proposal to install an electronic information board showing up-to-the-minute information on the latest services was approved as part of a project to enhance the town's Jubilee Walk.
St Edmundsbury's Cabinet last night approved plans to install an electronic information board and clock as part of a public art scheme in Jubilee Walk, which will also see text or motifs inscribed in the pavement and a sculpture installed to commemorate Owen, a popular ginger cat who used to live in the area. [See artist's impression of the sculpture]
It is hoped the information board will feature the newly-developed
Haverhill Brand
ing, while the whole project has been designed to give Jubilee Walk a distinct character while improving one of the key gateways into the town.
Negotiations are now taking place with property owners in Jubilee Walk over the position of the information board, while a panel made up of representatives from the local community is being set up to discuss possible designs for the pavement art in more detail.
The project will also see new seating, handrails and bus shelters installed while the car park will be resurfaced and landscaping will take place. A commemoration for the late Councillor Geoffrey Rushbrook, who served the nearby Kedington Ward, will also be included in the scheme.
Work on the project, for which St Edmundsbury has earmarked around £460,000, is due to start in early October and will be complete by Christmas.
Cllr John Griffiths, St Edmundsbury Council Leader, said:
"Jubilee Walk is an important gateway into Haverhill and this facelift shows the masterplan vision for the town is really coming to life. The scheme has been developed following public consultation and will give the area a distinct identity while improving the environment for residents and visitors alike."
The work forms one of the first key stages of the Haverhill masterplan, which has been designed to transform the town centre over the next ten years. St Edmundsbury has pledged £10million over that time to help kick-start work and encourage outside funding.
Plans for the public art were discussed by the Haverhill Area Working Party last month before passing to last night's Cabinet for approval.
St Edmundsbury Borough Council

Comment on this story
[board listing] [login] [register]
You must be logged in to post messages. (login now)