New borough boss continues Haverhill-Devon connection
Thursday, 16th February 2012.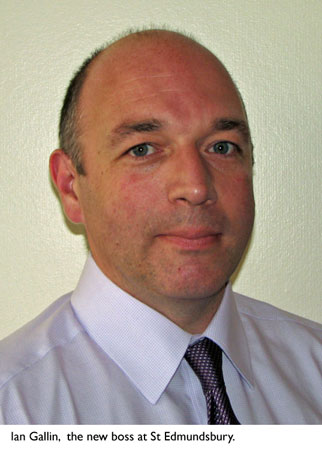 The new boss of St Edmundsbury Borough Council, at a salary of £105,000 a year, will be moving up from Plymouth City Council.
His appointment comes as a result of St Edmundsbury joining forces with Forest Heath District Council to share one chief executive between them and neither of their current ones wanted the job.
A wealth of experience, allied to business skills and enthusiasm for challenge, has led the two councils to approve the appointment of their new joint chief executive.
The appointment of Ian Gallin, recently at Plymouth City Council, was formally approved by Forest Heath and St Edmundsbury at separate meetings last night.
He is the second new council officer with close responsibilities for Haverhill to have moved up from Devon in the last few months. Haverhill's new town clerk, Will Austin, was previously at East Devon District Council.
Cllr John Griffiths, leader of St Edmundsbury, said: "We unanimously selected Ian from a very strong field of candidates and I am delighted that both councils have now endorsed his appointment.
"I believe he has exactly the right skills, the drive and enthusiasm to help take Forest Heath and St Edmundsbury forward in the challenging but exciting times ahead for West Suffolk and the people we serve here."
Cllr James Waters, leader of Forest Heath, said: "This is going to be a hugely challenging job and I am confident we have a strong chief executive to work with the strong political leadership we have here in West Suffolk.
"Ian brings with him a wealth of experience which will help not only to drive shared services forward, but will also give us a firm business focus and put us in the position of working with other partners beyond the boundaries of Suffolk."
Both leaders paid tribute to the outgoing chief executives, David Burnip (Forest Heath) and Geoff Rivers (St Edmundsbury).
Cllr Griffiths and Cllr Waters said: "Both chief executives have served, and are continuing to serve, their councils with a tremendously high degree of professionalism during a very challenging time and we thank them for their support."
Ian has extensive experience in local government and has worked in district and unitary authorities at director and chief executive level.
Before Plymouth he was at West Wiltshire District Council. His career began with roles in finance, economic development, corporate policy and strategy followed by senior management posts.
After yesterday's council meetings, Ian said: "I am delighted about my new appointment and am really looking forward to the challenge. It's a great opportunity to work with two councils with such clear ambitions and determination."

Comment on this story
[board listing] [login] [register]
You must be logged in to post messages. (login now)