New fantastic free App from Jacobs Allen
Thursday, 18th July 2013.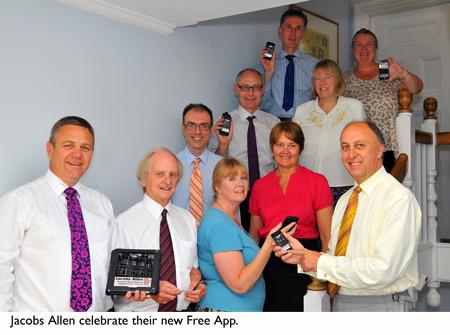 Local chartered accountants Jacobs Allen have just launched their mobile App, full of the latest tax rates and tables along with some extremely useful calculators such as a payslip calculator.
The App will help with things from working out the benefit in kind on company cars to calculating the amount of inheritance tax payable without advice.
Director Paul Donno said: "The App has been carefully crafted to reflect the growing demands of a mobile-oriented society.
"Jacobs Allen are glad to be able to offer such a useful tool, free of charge to both clients and non-clients alike, that allows everyone to stay up to date on the go."
The App will continue to develop and expand, adding new tools and features, and very soon will be fully integrated with the Jacobs Allen Blog.
This will allow users to stay informed of the latest trends and discussions in the business world, both locally and nationally, as well as some humour and updates from the Jacobs Allen team.
Director Keith Senior said: "We are pro-active and progressive; refreshingly different to other accountants' approach to clients' business and taxation affairs.
"At Jacobs Allen we strive to be at the pinnacle of technology so as to empower our clients with the very best service and advice, the introduction of this App is doing exactly that."
Client manager Michael Ford said: "Recently we moved to using online document management software, allowing us to access all clients' files from our offices in both Haverhill and Bury St Edmunds.
"This software is fully integrated with a secure portal, allowing us to share documents with our clients so that they may view and digitally sign them. Our clients love this; long gone are the hassle, cost and time delays of traditional post."
Jacobs Allen are proud to be embracing cloud technology and currently stand as the UK's number one accountants for SageOne. They are one of only 180 Sage Accredited Accounting Partners and are working closely with Sage on further software development.
To get the Free App just go to the App or Play Store and type Jacobs Allen and install.
Jacobs Allen Chartered Accountants and Chartered Tax Advisers have offices in both Bury St Edmunds and Haverhill. For a free no obligation consultation, just ask@jacobsallen.co.uk.

Comment on this story
[board listing] [login] [register]
You must be logged in to post messages. (login now)